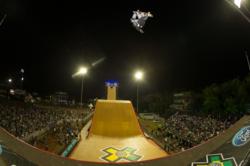 "I am really excited for Jake," said Pierre Luc Gagnon. "He made history tonight stomping the first backside 720 Ollie in competition at X Games Big Air. So proud of you Jakey."
Corona, CA (PRWEB) April 19, 2013
Foz do Iguacu, Brazil | Monster Energy congratulates Jake Brown on his bronze medal and incredible run where he landed the world's first backside 720 Ollie over the 65-foot gap in Big Air tonight at X Games Foz do Iguacu. In true form, Brown did not hold back and just went for it while making history and scoring a 24 out of 25 with his 720 trick, and scoring an overall total of 87.5. This medal follows his two consecutive gold medals for 2009 and 2010, and is his sixth medal on the Big Air ramp.
"I am really excited for Jake," said Pierre Luc Gagnon. "He made history tonight stomping the first backside 720 Ollie in competition at X Games Big Air. So proud of you Jakey."
After Jake's ground-breaking move on the 65-foot gap, he impressed on the quarterpipe best trick with his token 20-foot plus McTwist and went on to the combined run section with an Ollie 360 to a massive McTwist on the 27' tall quarterpipe.
A legendary big air skater for years, Brown (Sydney, Australia), came to Brazil determined to stomp the trick he has been working on since last year and inked his place in the Big Air record books.
For more on Brown and Monster Energy at X Games Foz do Iguacu, including exclusive photos and daily recaps, check out http://www.monsterenergy.com or http://www.monsterenergy.com/facebook.
###
About Monster Beverage Corporation:
Based in Corona, California, Monster Beverage Corporation is the leading marketer and distributor of energy drinks and alternative beverages. Refusing to acknowledge the traditional, Monster Beverage Corporation supports the scene and sport. Whether motocross, off-road, NASCAR, BMX, surf, snowboard, ski, skateboard, or the rock and roll lifestyle, Monster is a brand that believes in authenticity and the core of what its sports, athletes and musicians represent. More than a drink, it's the way of life lived by athletes, sports, bands, believers and fans. See more about Monster Beverage Corporation including all of its drinks at http://www.monsterenergy.com.