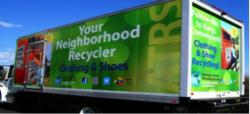 "Our goal on Earth Day is to educate the community about the importance of participating in the circular economy of reduce, reuse and recycle that helps so many locally and abroad." -- David Peganyee, Founding President and CEO of ATRS
San Antonio, Texas (PRWEB) April 21, 2013
American Textile Recycling Services (ATRS) brought its textile recycling mission to the Alamo City at HEB Earth Day San Antonio, Saturday, April 20th at Woodlawn Lake.
Attracting over 15,000 attendees, Earth Day San Antonio offered a fun-filled day for families to celebrate the 43rd annual National Earth Day through environmental exhibits, tree planting demonstrations and interactive energy conservation workshops. As a part of the festival activities, ATRS Recycling was the only textile recycler with a booth and attendees brought bags of unwanted clothes, shoes, toys and household items to be recycled. Textiles collected at the festival provided funding for charity partner COIL (Center On Independent Living) that offers support to the elderly and severely disabled so they can live independently. Major sponsors of Earth Day San Antonio included H-E-B, the City of San Antonio, and the Earth Day Committee.
"We are proud of our company's roots in San Antonio and the socially responsible families, businesses and property managers that support our recycling program each and everyday," says David Peganyee, Founding President and CEO of ATRS. "Our goal on Earth Day is to educate the community about the importance of participating in the circular economy of reduce, reuse and recycle that helps so many locally and abroad."
ATRS is the fastest growing textile recycler in the U.S. Its socially responsible business model provides free textile recycling solutions for the public, job stimulation for local communities and abroad and much-needed funding for worthy local charities. With branches in 11 markets including Texas, Florida, Michigan, Tennessee, Atlanta, Oklahoma, Arizona, Colorado and Southern California, ATRS Recycling is committed to keeping textile waste from local landfills and promoting a greener tomorrow.
For more information about ATRS, our recycling bins, where the donations go, or how to host a recycler, please go to http://www.atrscorp.com. Like us on Facebook and follow us on Twitter and Instagram.