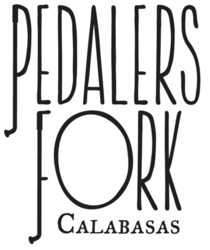 Milpitas, CA (PRWEB) April 19, 2013
Pedalers Fork, a new restaurant in old town Calabasas California, installed a Liquid Food Composter (LFC) from Power Knot to digest its waste food. With an emphasis on being green and clean the restaurant prides itself on its acquisition which prevents hundreds of pounds of waste food from going to the landfill every day. The LFC is a biological high technology digester that is totally green and saves the mess, cost, and inconvenience of dumping the waste on a landfill. The LFC reduces the carbon footprint of the company by over 800,000 lb (400 tonne) CO2e per year and has a payback of less than two years.
The Pedalers Fork restaurant is a newly built restaurant in old town Calabasas, California that prides itself on its environmental sustainability. The restaurant was constructed with much reclaimed materials and prepares meals using ingredients mostly from local farmers. The owners designed the space for the LFC while the building was being constructed. "It's the right thing to do," said Tim Rettle, co-owner of the restaurant. "It does not make sense to discard the waste food on a landfill and other restaurant owners should be doing this."
Pedalers Fork acquired an LFC-200, a machine that is capable of digesting up to 800 lb (360 kg) of waste per day. The output is sent down the drain so the machine never needs emptying. Dan Murray, Executive Chef at Pedalers Fork was enthusiastic about the operation of the machine and stated, "The LFC digests over 300 lb of waste per day. There's no noise, no smells, and it uses little water."
As a green restaurant, association with all things environmentally conscious is paramount to the construction and operation of the restaurant. With all the measures implemented by the restaurant, Pedalers Fork is one of the greenest restaurants in Southern California.
Pricing and Availability
The LFC-200 is one of a family of six machines. The smallest is the LFC-50 (from 100 lb per day) with the largest being the LFC-500 (up to 2000 lb per day). These vary in price from $16,000 to $54,000 and are available now.
YouTube Video
A video discussing the use of the LFC at Pedalers Fork is available at: http://www.powerknot.com/pf
About Pedalers Fork
Pedalers Fork is a farm to table restaurant situated in old town Calabasas California. The restaurant places an emphasis on living and eating healthy and in harmony with the environment. The restaurant has 220 seats with many outdoors that overlook the adjacent creek. Pedalers Fork incorporates a boutique bike shop that sells and repairs bicycles to further enhance the lifestyle of its patrons. The menu is always changing to serve fresh quality foods that are in season locally. For more information, access http://www.pedalersfork.com.
About Power Knot LLC
Power Knot provides safe and economically sound solutions for commercial, industrial, and military customers globally seeking to reduce their carbon footprint. The Liquid Food Composter (LFC) allows customers to reduce the expense, inconvenience, and mess of disposing of waste food that would otherwise be hauled to a landfill. Models are available that process from 100 lb per day to 2000 lb per day of waste food. Our technologies are proven, available today, have been in reliable use for many years, and offer a payback period typically of less than four years. Power Knot has its headquarters in Milpitas California. For more information, access http://www.powerknot.com.