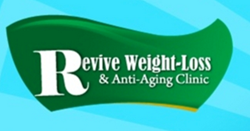 Lose Weight Fast
Las Vegas, Nevada (PRWEB) April 19, 2013
Revive Weightloss is the premier Las Vegas weight loss clinic, that helps individuals get in shape, and lose weight, through HCG, and other bioformulas. As a part of their growing commitment to help consumers get in shape, Revive Weightloss is offering a 10 day - 10 pound special offer.
This "bikini," slim down program, will help those looking to lose 10 pounds in 10 days. This special HCG Diet Las Vegas program is open to 25 people, who sign up, and will save 27% on the 10 day HCG program, which includes 2-Vitamin B12 supplements and 1 HCG regiminen and protocol. Normally priced at $210, it is now available as a summer special, for only $149.00
The sale of this special program ends on April 30th.
About Revive Weightloss
Revive Weightloss is a Las Vegas HCG clinic geared towards overweight patients looking to lose weight quick. It's pioneered by Dr. Rachel Azoulay and Dr. William Maranon, the forefront leaders of weight loss in Las Vegas.