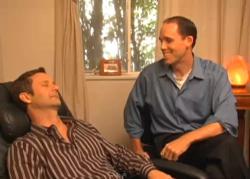 Beverly Hills, California (PRWEB) April 21, 2013
Earlier this week the online hypnosis website Natural Hypnosis launched a new product; a series of hypnosis sessions recorded by hypnotist Brennan Smith. The six hypnosis sessions are called "Smoking Cessation". They gradually and naturally create new emotional and mental patterns that help change the old ones that the listeners associate with smoking, while the later sessions help smokers quit smoking cigarettes for good.
According to Natural Hypnosis, the reason most people fail at stopping smoking is because every single person has a different experience of smoking. Every person has a different reason for smoking, a different first memory of smoking, a different emotional reaction to smoking, and a different experience of quitting.
This makes it so much harder, as conventional advice or even supports such as nicotine replacement therapy (in the form of chewing gum, patches etc.) might work great for one person but not at all for another.
Some people might really struggle in the first few days, while others find that easy but struggle with willpower one or two weeks later, and some even quit for months but then find themselves smoking again after "just one".
The reason hypnosis can work so well it because it unifies a person's experience.
There are certain characteristics shared by people who manage to successfully quit smoking; they find it easier, they don't reminisce on the enjoyment they used to experience but they look forwards to the positives of quitting such as clear lungs and increased health. They don't suffer from cravings as much, and something just clicks in their mind and they know they have quit forever and won't go back. But that is not the case for the majority.
The smoking cessation program was developed to help other people to have this similar, easier experience of quitting smoking too.
The six sessions are designed to end a person's slavery to cigarettes, with the first session aiming to create new emotional patterns to set the foundation for success. The second session builds upon the first and creates new mental patterns, while the third session is the one is intended to free people from smoking once and for all.
Aim of the fourth session is to strengthen the resolve so that it can reinforce all the positive changes that were made. By the fifth session it should all become easier and easier, which is incidentally exactly how the fifth session is named. The sixth and final session sets the mindset into the distant future, where it helps a person truly feel and know that they have quit smoking forever.
To find out more about the series of smoking cessation hypnosis sessions from Natural Hypnosis and Brennan Smith, visit: