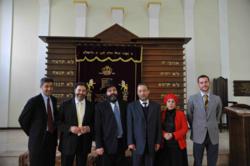 Azerbaijani separates faith and state, maintaining a peaceful atmosphere where all religious communities can coexist.
Baku, Azerbaijan (PRWEB UK) 19 April 2013
A delegation of religious leaders from Bordeaux, France, travelled to Azerbaijan from 14–19 April on a study trip on the topic of secularism and religious tolerance in the Muslim world, in a visit organised by The European Azerbaijan Society (TEAS). This delegation was headed by Tareq Oubrou, Head, Bordeaux Mosque, and Mufti to the South-Western region of France. The delegation also included Mouslim Charaffedine, Secretary-General, Muslim Federation of Gironde; Mrs Khadija Oubrou, Secretary-General, Islam Relief France and Head of its Bordeaux office; Didier Guedj, Representative, Regional Antenna Bordeaux Aquitaine Council of French Jewish Institutions and Central Consistory, administering Jewish worship in France; and Guy-Antoine Castex, Co-founder, Fils de France think-tank. The purpose of the visit was to showcase the Azerbaijani experience of religious tolerance. The country is secular with a Muslim majority, yet ensures the peaceful coexistence of different religious communities, notably Jewish, Catholic, Orthodox and Muslim.
During the visit, the delegation met Elmar Mammadyarov, Azerbaijani Minister of Foreign Affairs, who presented the current state of Azerbaijani–French relations. He described the Azerbaijani separation between faith and state, stressing the need to maintain a peaceful atmosphere where all religious communities can coexist. The delegation also met Elshad Iskandarov, Head, Azerbaijani State Committee for Work with Religious Organisations. Mr Iskandarov answered practical questions regarding the implementation of secularism in Azerbaijan, e.g. explaining the framework provided for the training of Imams.
The delegation also participated in the conference 'CIS Muslims for Peace and Sustainable Development' where Mr Oubrou had the opportunity to meet Allahshukur Pashazadeh, Head of the Caucasian Muslims' Council and Sheikh-ul-Islam for Azerbaijan and the Caucasus.
During a lunch organised by H.E. Pascal Meunier, French Ambassador to Azerbaijan, the delegation also met other religious representatives, including Alexander Ishein, Orthodox Bishop of Baku and Azerbaijan; Yevdayev Milikh Ilhanovich, Head of the Mountain Jews Community in Baku; and Catholic Father Vladimir Fekete.
A trip to Quba was also organised, where the Bordeaux representatives met local authorities and went to the Red Village, a neighbourhood mainly populated by the Mountain Jews community. Boris Simonduyev, Head, Mountain Jews community, accompanied the delegation during a visit to the neighbourhood and local synagogues.
This trip is a preliminary step towards a series of conferences that will be organised by TEAS in France during the coming year on the topic of the Azerbaijani model of secularism and religious tolerance. The first conference will be held in Bordeaux on 15 June, bringing together academics, opinion-makers and civil society representatives wishing to reflect on the concept of secularism. This is a necessity in each society aiming to promote religious freedom and peaceful interfaith coexistence.