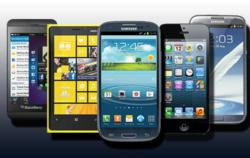 Birmingham, West Midlands (PRWEB UK) 23 April 2013
The figures, which have been collected from the Mobiles4everyone network that includes sales through online retailers including Carphone Warehouse, Phones4u, e2save, and Mobiles.co.uk, show that the main contenders for the top 5 mobile phones are dominated by Samsung and Apple devices.
Mobilephones.com co-founder David Abrahamovitch thinks that this is the result of good marketing and competitive pricing. "Deals for the Samsung Galaxy S3 are much cheaper than their equivalent for the iPhone 5," he stated. "A contract with unlimited usage across minutes and texts with 1GB of data can be picked up for from £27 a month, whereas for the iPhone 5 you're starting at £36."
Mobilephones.com has noted that while the Samsung Galaxy S3 is the most popular smartphone sold between the months of September 2012 and March 2013, sales for the iPhone 5 have been rising dramatically over the same time-frame, selling nearly 45% more devices than the Samsung Galaxy S3 last month. And while average iPhone 4S sales have outnumbered iPhone 5 sales, the growth in popularity of the latest iPhone suggest that we will witness it overtaking the iPhone 4S in a matter of months.
The same sales statistics also demonstrate that SIM Only contracts are on the rise; in fact, more SIM Only contracts were sold in the past six months than any HTC, Sony or Nokia device. This has led Mobilephones.com to believe that the current economic climate has had a noticeable impact on the type of mobile phone contract that users are opting for. Rather than choosing a traditional contract which includes a mobile phone handset, buyers are either choosing to keep their existing handset, or are purchasing a SIM-free device separately in favour of reducing costs.
Mobilephones.com predicts that the next three months could see a similar pattern of dominance within the mobile phone market with the release of the Samsung Galaxy S4 this week and the iPhone 5S later in in the year. However, with contenders like the HTC One being thrown into the mix, Q3 of 2013 is sure to see Samsung's sales figures take a dip as the two game-changing Android giants battle it out, with the iPhone 5S watching from the side-lines.
Mobilephones.com is an independent service which provides users with impartial reviews on mobile phones, detailed articles and up-to-date news stories. The website not only offers users all the information they need in order to make an informed purchase on a mobile phone, but the site also allows users to compare mobile phones from over 600,000 deals across all major network providers and UK retailers.