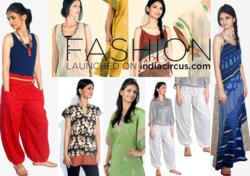 "Comfort, classiness and a carefree style are 3 things that women always want in their clothes. In many ways, a lady's sense of style and fashion mirrors her personality, and our new collection does just that" Krsna Mehta, Design Director, India Circus
(PRWEB) April 22, 2013
India Circus, well-known designer Krsna Mehta's exclusive range of contemporary-chic home décor, lifestyle, and personal accessories brand, is ecstatic to unveil its all-new apparel collection, called Bohemyan Blue on http://www.indiacircus.com. The collection is an extension of India Circus' style and sensibilities in the area of ethnic chic fashion. All the clothes in this collection embody the mantra of the three Cs — get Comfort, go Classy, and be Carefree!
Bohemyan Blue has a wide range of garments to choose from. Think, the super-comfortable kaftans, stylish mermaid-cut dresses, comfortable and trendy tunic tops and knit tunics, sophisticated shirts with printed plackets, contemporary and classy kurtis and kurtas, flowy and fascinating straight-fit and Alibaba pyjamas, chic stoles, and, of course, breathtakingly gorgeous skirts!
The collection sees a variety of prints, from bold floral to subtle geometric, all matching the mood and tone of the respective garments. The hues are chosen keeping the style of the clothes in mind. Typically ethnic touches, such as the dori-style on kurtis, add to the charm and richness of the garments.
Speaking about the launch of Bohemyan Blue, Krsna Mehta, Design Director, India Circus, said, "Comfort, classiness and a carefree style are the three things that women always want in their clothes. In many ways, a lady's sense of style and fashion mirrors her personality, and our new collection does just that. With this collection, we are looking to present to our women shoppers a whole new world of fashion and fun!"
India Circus' Bohemyan Blue has an affordable price range, and gives women shoppers 'the' style and fashion quotient, without draining their wallets. In terms of style, colours, patterns, and fashion, Bohemyan Blue has something special for every woman!