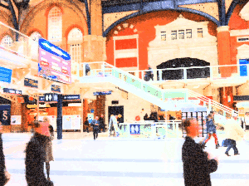 people could find themselves better off each month by spending and borrowing on their credit cards
(PRWEB UK) 20 April 2013
Whilst Bank of England interest rates have remained at record lows for the past few years. The country's banks have been pushing up customer overdraft fees. According to, data feed supplier, Moneyfacts typical overdraft rates have increased by over 1% in the past 2 years (from 14.81% to 15.99%).
State-backed RBS/NatWest is the latest to tinker with its overdraft fees. The changes, which take effect in July, will see customers charged an additional £6 when they go £10 overdrawn (they will continue to charge the current 19.89% overdraft rate in addition).
Although RBS/NatWest argues the changes are 'cost natural' because other changes will reduce the maximum charge for an unarranged overdraft from £186 to £90, the fact that they slashing arranged overdrafts for customers, from £100 to £10, in the same shake up could unsettle many. Indeed modelling by Which, the customer organisation, demonstrates that an RBS/NatWest customer using an authorised overdraft for £250 for half of every month will see their annual costs almost quadruple, from £21.60 to £93.60.
A compareandsave spokesperson commented on the latest banking shakeup:
"The timing and the sentiment of these changes by RBS/NatWest is surprising. Perhaps it's admirable that they want the Robin Hood of banking (helping those struggling most at the expense of others). Whether their customers will feel the same way, prior to the UK current account shakeup due this September, is more doubtful."
Perhaps what is more interesting for us is the wider news regarding overdraft rates. Now many bank overdraft rates are higher than the standard purchase rate of many credit cards; people could find themselves better off each month by spending and borrowing on credit cards, which is an unusual situation."
_______
compareandsave.com is one of the UK's leading personal finance comparison websites. Based in Colchester, Essex, compareandsave.com has been helping UK consumers get a better deal on their credit cards, saving accounts, personal loans and more for over five years.