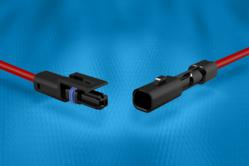 (PRWEB UK) 22 April 2013
TE Connectivity (TE), one of the world's market leaders in connectivity solutions, today announced the release of the one position free hanging plug and receptacle assembly, an extension to the SlimSeal SSL connector family.
The low profile connector was developed for LED lighting applications to provide an IP67 sealed, daisy chained power connection between multiple LED modules in a single light fixture and the power source. These applications include street, tunnel, wall wash, spot, flood, billboard and other outdoor lighting fixtures.
The SlimSeal SSL connector family is now available in 1, 2, 3 & 4 position sizes in free hanging, wire–to-wire and wire-to-board configurations to meet the growing demand for low power, sealed solutions in outdoor lighting. The connectors accept 18 – 20 AWG and 22 – 24 AWG stranded wire to meet your specific design needs.
For more product information, please contact your local TE Product Information Center or visit http://www.te.com/catalog/minf/en/665.
About TE Connectivity
TE Connectivity is a global, $13 billion company that designs and manufactures approximately 500,000 products that connect and protect the flow of power and data inside the products that touch every aspect of our lives. Our nearly 90,000 employees partner with customers in virtually every industry—from consumer electronics, energy and healthcare, to automotive, aerospace and communication networks—enabling smarter, faster, better technologies to connect products to possibilities. More information on TE Connectivity can be found at http://www.te.com/.
TE Connectivity and TE connectivity (logo) are trademarks. Other logos, product and/or company names might be trademarks of their respective owners.