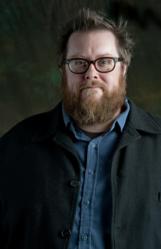 My goal is to bring thoughtful, well-crafted design, born out of intelligent strategy, to every single project. - Clark Hook
Franklin, TN (PRWEB) April 23, 2013
Prior to joining FMS, Hook began his professional career as an Art Director with Lewis Communications, proceeded to become a Partner at TH Design, CCO at Euforma and eventually led his own design agency for seven years. He has experience with bank clients as well as other industries including healthcare, publishing, education, tourism, broadcasting, music and retail. His work has been featured in numerous publications and awards including Communication Arts, Print, How International Design, Critique, AIGA, Graphis, Type Director's Club and Creativity Magazine. At FMS, he will lead the creative team and produce the branding pieces to maximize each client's creativity and strategy. He will assume creative direction duties for all existing clients, and collaborate in development of all future client brands.
Hook trained in Atlanta at the Creative Circus and at Belmont University.
"We are excited about Clark joining our team," shared Tim Pannell, President of FMS. "He is a key hire for us and we are thrilled to have his caliber of expertise and design onboard and to work for our clients."
"My goal is to bring thoughtful, well-crafted design, born out of intelligent strategy, to every single project," shared Hook. "This approach will help our clients develop effective, honest, successful brands that truly shine in their markets."
"In Clark, we have found a creative director whom we can trust for creative leadership. He has built and maintained countless, successful brands and has all the traits we were looking for," shared Laurie Pannell, agency partner and brand director.
About FMS: Financial Marketing Solutions is a niche branding and marketing agency. Through strategic discovery, FMS partners with banks across the nation to define and enhance bank brands and develop customized, creative marketing tools. This comprehensive approach unites the bank's team and presents a consistently powerful brand message, increasing employee effectiveness, customer retention, brand loyalty and ultimately, profits for the bank. For information, call 615-591-2073 or visit http://www.fms4banks.com.