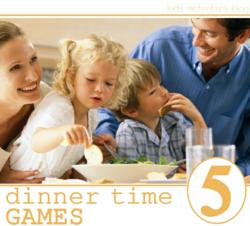 Playing dinner games may finally get the kids to eat all of their veggies without complaints.
Dallas, Texas (PRWEB) April 23, 2013
Ready for a happy dinner tonight? Fun dinner games that can liven up mealtime at home and great family games have been released on Kids Activities Blog.
Playing the dinner games are fun but also may help the kiddos to finally eat their vegetables without any complaints. The simple dinner game ideas include bringing a single dice on the table and playing a simple roll the dice and eat the amount shown on the dice game. Pick a vegetable or other category on the plate and whoever finishes the item first is the winner.
Another idea is playing a guessing game, where one player is closing his or her eyes. Then each person on the table has to hide one item in the lap such as a salt and pepper shaker, napkin, fork or spoon. The person opens his or her eyes and has to guess what is missing.
Drawing a giant chalkboard together with the family outside and playing favorite board games with the giant board are other fun family game ideas that will create memories for years to come.
For detailed instructions and to get additional fun family game ideas, check out Kids Activities Blog this week. Come get inspired to have some fun family time at the dinner table tonight.
About Kids Activities Blog
Kids Activities Blog is a website created by two moms (who collectively have 9 children), Rachel Miller and Holly Homer from June Cleaver Nirvana. It is their daily goal to inspire parents and teachers to play with kids. This interactive website publishes simple things to do with kids twice a day. Kids Activities Blog is a great tool for moms and teachers to find kid-friendly activities that create memories and sneak learning into the fun.