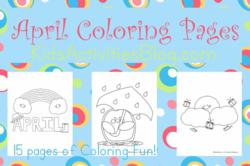 Use the set of four April themed placemats at dinner time today. They can be easily printed on legal sized paper. The kids will love them.
Dallas, Texas (PRWEB) April 25, 2013
Fun April coloring pages and printables to color that transform into placemats have been released on Kids Activities Blog. These templates are perfect for any April themed kids gathering or for a creative rainy afternoon at home.
The 15 April coloring pages include designs featuring the word April with a rainbow, a penguin in the April rain, a boy and a girl holding umbrellas during April showers, a turtle, an owl, and an alligator in the spring rain, cute butterflies, an early bird with a worm, a bumble bee and a sun hiding behind the clouds.
The printable set of four placemats can be easily printed on legal sized paper and can be used during dinner time or they make cute placemats during any kids' party in April. Keep them on plain paper or laminate them to reuse them. Dry Erase markers can be used to color them over and over again.
The designs feature April showers bring May flowers with a springtime rainbow and the word April to be colored. The set of four can be printed as a round plate version, rectangular version, or with a cute black and white border design.
For detailed instructions and to get additional fun seasonal themed printables, check out Kids Activities Blog. Come get inspired to let the kids have fun with cool printables.
About Kids Activities Blog
Kids Activities Blog is a website created by two moms (who collectively have 9 children), Rachel Miller and Holly Homer from June Cleaver Nirvana. It is their daily goal to inspire parents and teachers to play with kids. This interactive website publishes simple things to do with kids twice a day. Kids Activities Blog is a great tool for moms and teachers to find kid-friendly activities that create memories and sneak learning into the fun.