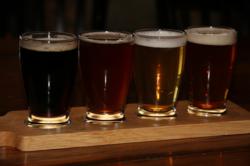 Thomson, IL (PRWEB) April 19, 2013
The Heirloom Market & Café is hosting their first ever "Taste of Heirloom" event this Saturday (April 20, 2013) afternoon from 2 p.m. until 5 p.m. This event will have craft beer and wine tasting, food samples, raffle items, and live music by Charlie Crider. Admission is free for the Taste of Heirloom and will be an event that encourages people to step outside their comfort zone and try some new beer and wine while enjoying some free entertainment. All of this nestled inside a rustic country atmosphere.
"This is the first event we will be hosting that truly showcases our outstanding selections of local wines and craft beers. As we continue to bring in craft beers and wines that are outside the norm, we would like our customers to be able to come in and try all these different items. I have been to wine tastings in the past and have been very pleasantly surprised to find such a wonderful selection of wine and craft beer that are so impressive. One of the perks of having a "tasting" is that it allows the individual to venture outside their "comfort zone", with relatively zero risk. I have found that some of my favorite wines and craft beers have been something that I would not have normally picked out to try on my own," says Sarah Tyler, Director of Operations for the Heirloom Market & Café.
Head over to the Heirloom Market & Café this Saturday from 2 p.m. until 5 p.m. to taste the Bent River Brewery Uncommon Stout to experience the flavor move from dark creamy malts, to the strong presence of a morning cup of coffee, and finally into the subtle frothy tastes of a traditional oatmeal stout. For those customers who don't like the tastes of beer, come and have a taste of "By the Dam Good Wine" from Brush Creek Winery. This local wine from Bellevue, Iowa is made with local grapes to create a beautiful semi-sweet blush wine that mimics a Native American Labrusca.
Anyone in the area, looking for something to do this weekend, grab a couple of friends and swing on over to the Heirloom Market & Café to experience the Taste of Heirloom. Admission is free. There will be all day drink specials for wine and beer. For more information, go to http://www.TheHeirloomMarket.com or check them out on Facebook at https://www.facebook.com/HeirloomMarket.