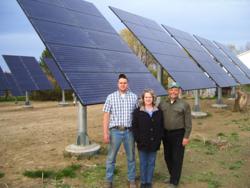 "As solar energy explodes in popularity, we want to provide it as an option to everyone. Our new 2.99% financing program will allow everyone to go green"
-John Wright, Vice President, Hudson Solar
Albany, New York (PRWEB) April 21, 2013
With all eyes on the economy since a recovery started revealing itself months ago following the "deep recession", and home improvement spending a longtime gauge of consumer confidence and economic vitality, there is no doubt that Hudson Solar's announcement of 2.99% financing, on the heels of increased focus on the New York Sun Initiative, could stimulate big results for New York State.
"As solar energy explodes in popularity, we want to provide it as an option to the masses at an affordable price-point", shares John Wright, Vice President of Hudson Solar. "We are deeply committed to ensuring that everyone who wants a system installed has access, and therefore offer every type of financing available, from loans to leases. Just as people seem to be buying up real estate again with historically low mortgage rates, our 2.99% rate on solar energy will make our environmentally-conscious solution a no-brainer, improving a home's value and giving owners an opportunity to save a tremendous amount of money on energy, while feeling a sense of social responsibility".
For the average New York homeowner, the no-money-down and low monthly payments make it more affordable than ever; some homeowners will pay as little as $90/month for a system that covers approximately 70% of the homeowner's bill. This new solar loan has a total project cost that is less than half the amount of the average solar lease and there are no prepayment penalties or closing costs, according to Wright. In addition, once the system is installed, customers enjoy energy independence, protection against rising electric rates, and increased home value.
"This financing, along with the New York Sun Initiative, is great for New York residents who want to go solar", says Wright, "and we hope that in a bigger way, the efforts serve as an economic stimulus for New York State, and more importantly, an opportunity for New Yorkers to go a little greener".
Hudson Solar is an award-winning, family-owned solar provider based in New York State, serving New York, Western Connecticut, Western Massachusetts, and Southern Vermont; a proud employer of military veterans. The company designs and installs solar systems for residential, commercial, agriculture, municipalities, and not-for-profit organizations. With offices in Albany and Rhinebeck, and a portfolio of over 1,000 installed systems, Hudson Solar is in tune with every component of the process. Visit hudsonsolar.com for further information or call 866.452.7652.