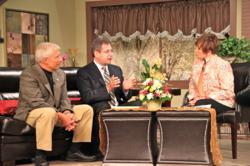 "I am very happy to sponsor Mr. Moore and The Vigilance Group. Many women can benefit from this safety initiative.

William Mattar
Founder, William Mattar, P.C."
Buffalo, NY (PRWEB) April 19, 2013
William Mattar Law Offices is very passionate about advocating safety within the community. Already this year, the firm has been lucky enough to work with organizations like The Amanda Hansen Foundation during Carbon Monoxide Poisoning Awareness Month, and Designated Drivers Across America to help discourage driving while intoxicated, providing safe rides home for the people of Western New York.
This April, the Law Offices of William Mattar worked on women's safety. Mattar went on AM Buffalo on April 16th to discuss this new initiative. The Law Offices of William Mattar sponsored Michael "Moose" Moore, President of The Vigilance Group, and brought him to Buffalo on April 16th and 17th to teach many women's self defense and situational awareness classes. Moore developed a training method that combines his extensive self defense knowledge as a military veteran, coupled with a plan of action for women to avoid violent situations all together. William Mattar Law Offices first had Moore teach his techniques to local all-girls school Sacred Heart Academy so that the gym teachers can incorporate this training into each semester's self defense protocol. Several different classes of girls were taught the Vigilance techniques. On the 17th, Moore taught a public event at the University at Buffalo's North Campus for free, teaching local women from the campus, sororities, and any others interested the valuable techniques and safety mindset of the training.
The Vigilance Training is another facet of the extensive outreach of William Mattar's safety efforts in the community. Mattar and his Law Offices are always passionate about giving back to the community, and giving people the tools they need to stay safe. The Vigilance Training helped the women of Western New York gain valuable insight into their own safety and self-empowerment through Mattar's sponsorship of The Vigilance Group.