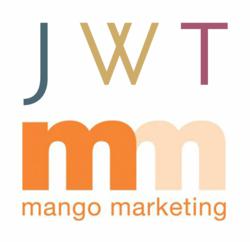 This agreement reflects our pioneering spirit. JWT will be 150 years old next year, and throughout our history, we have always been an early mover in emerging growth markets
Yangon, Myanmar (PRWEB) April 19, 2013
JWT Worldwide Chairman and CEO Bob Jeffrey and JWT Asia Pacific Chairman Michael Maedel today signed an affiliation agreement with Mango Marketing in Myanmar, giving the global advertising network a foothold in the region's newest emerging market.
Mango Marketing was set up as a full service advertising agency in 2004 by Burmese entrepreneurs Lynn Lynn Tin Htun and Aye Hnin Swe, who both have backgrounds in marketing. Swe worked for several ad agencies in different parts of Asia, and Htun, Mango's Managing Director, worked as a business development manager for a global fast-moving consumer goods company in Myanmar and Laos. Mango's clients include Unilever, F&N, Power House, GP Watch, Myanmar's leading liquor company IBTC, and Manila-based United Pharma. In mid-2012, Mango's Media division was separately incorporated as an independent media services agency, led by Swe, that continues to service Mango Marketing clients in addition to growing a strong media services practice in the market.
"There's been an extremely high level of interest in Myanmar among our clients since the economic sanctions began to ease. The country is on the radar of many major companies operating in Asia," said Michael Maedel, Chairman, JWT Asia Pacific. "This agreement signals JWT's commitment to help develop those business opportunities for our clients in this important emerging market."
"As the leader in the Myanmar market, Mango was careful in its choice of a creative services affiliate partner. In order to accommodate the needs of our growing multinational and local clients we are joining forces with JWT. We believe that JWT can add global inspiration and creative advertising 'best practices' to our local dedication," said Htun. "Combined with our long term local expertise and relationships we are very confident that this affiliation with JWT will help Mango Marketing service our clients to the best of our ability at a time when their needs are growing."
JWT entered India in 1929 and Japan in 1952, and is present today in 18 countries in Asia Pacific region. The affiliation agreement with Mango will give the Myanmar agency access to JWT's global network of digital and creative experts, and proprietary consumer insight and strategy planning tools.
"This agreement reflects our pioneering spirit. JWT will be 150 years old next year, and throughout our history, we have always been an early mover in emerging growth markets," said Jeffrey, who travelled to Yangon with Maedel to sign the deal. "This is the start of an exciting new chapter for JWT and Mango."
"JWT's idea-centric approach offers clients a consistent approach to help build brands that works very well in markets like this, where many consumers are new shoppers and the retail environment is highly fragmented," said Tom Doctoroff, JWT APAC CEO. "I look forward to working with Mango to deepen the service offerings for both our clients in this very exciting new growth market."
ABOUT JWT
JWT is the world's best-known marketing communications brand. Headquartered in New York, JWT is a true global network with more than 200 offices in over 90 countries employing nearly 10,000 marketing professionals.
JWT opened its first offices in Asia Pacific in 1929. JWT APAC, headquartered in Singapore, today has more than 3,000 employees spread across 18 countries in the region.
JWT consistently ranks among the top agency networks in the world and continues a dominant presence in the industry by staying on the leading edge—from producing the first-ever TV commercial in 1939 to today, developing award-winning branded content. JWT embraces a WORLDMADE philosophy, making things inspired by the world through blending technological innovation with international imagination. JWT has forged deep relationships with clients including Bayer, Bloomberg, Brand USA, Diageo, HSBC, Johnson & Johnson, Kellogg's, Kimberly-Clark, Macy's, Mondelez, Nestlé, Nokia, Rolex, Royal Caribbean, Schick, Shell, Unilever, Vodafone, Vonage and many others.
JWT's parent company is WPP (NASDAQ: WPPGY). For more information, please visit http://www.jwt.com and follow us @JWT_Worldwide.
ABOUT MANGO MARKETING
Mango Marketing was established in 2004 as a full-service advertising agency. Mango was co-founded by Burmese entrepreneurs Lynn Lynn Tin Htun and Aye Hnin Swe; both have extensive backgrounds in marketing in Myanmar and the surrounding region. Starting with 8 employees, the Mango Group now employs 52 local and international professionals.
In mid-2012, Mango's Media division was separately incorporated as an independent media services agency. This exciting move allows Mango to expand its strong media services practice in the market, while continuing to provide services for Mango Marketing clients.
As the leading advertising agency in Myanmar, Mango has 11 local and international clients, including Unilever, F&N, GSK Consumer, FUMAKILLA JUMBO, GP Watch, Aye Yar Hinthar, CB Bank, Myanmar's leading liquor company IBTC, and Manila-based United Pharma. Many of these are long-term clients.
###