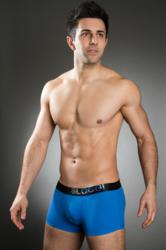 The notion that men's underwear can act as an economic bellwether might sound amusing, but it's proving popular in the USA and Europe.
(PRWEB UK) 22 April 2013
The notion that men's underwear can act as an economic bellwether might sound amusing, but it's proving popular in the USA and Europe. The idea of monitoring men's undies' sales originates from former head of the Federal Reserve Alan Greenspan, who believed underpants' sales tracked the fortunes of the overall economy rather well.
Deadgoodundies.com is a website dedicated to selling underpants of all kinds, from briefs to boxer shorts, so its sales data are very reliable, says partner Jane Garner.
"The latest reports from the United States indicate that while men aren't necessarily updating their whole wardrobe, they are stocking up with new pants and socks. Theories about what drives this trend vary from men having more disposable income, they've just totally run out of decent pants, or they're dating more - or again later in life - and feel the need to update their underwear!"
Jane believes that the availability of underwear for men online is also a key to increasing underpants sales, as she says, "Men can be a bit shy or rushed, if they're looking at underwear in public in the middle of a shop. In front of their computer screen, they can browse lots of colours and styles before deciding what to buy."
"Deadgoodundies.com has noted a number of new buying trends this year and one is an increase in the size of single, large orders each month. They are consistently more than £1000 a time while our average parcel is around £60-£100. Our sales figures for the first quarter of 2013 are up for DGU, polarising between customers buying expensive luxury designs and those stocking up on multipacks of cotton briefs."
Deadgoodundies.com appeals to men who want high fashion designer brands as well as those who prefer absolute classics, offering styles from minimal thongs and jock straps via numerous styles of brief to trendy hipster cuts, boxer shorts and longer-leg pants favoured by sportsmen. From its best selling brands, DGU also sells swimwear year round as well as socks, nightwear and loungewear.
Company Information
Deadgoodundies is an online only retailer stocking the best in designer men's underwear and swimwear from all over the world including: (in alphabetical order) Big Boys, Body Art, Bruno Banani, Bum-Chums, Clever Moda, Doreanse, Ergowear, Gigo, Gregg Homme, HOM, James Tudor, Jockey, Joe Snyder, MaleBasics, MANstore, Mey Bodywear, Mundo Unico, Nils Bohner, Obviously For Men, Olaf Benz, Pikante, PUMA, Skiny, Sloggi, Solar TanThru and Zoggs. DGU stocks everything from thongs and strings to briefs, hipsters and shorts as well as selected loungewear, socks, T-shirts and more from their best selling brands.
DGU are incredibly media friendly and always have high-res images on hand for fashion pages and samples for photo shoots as well as expert comment and market insight from partners Adam and Jane.
For more information, contact DGU PR Jane on 01743 271615 (international +44 1743 271615) or email pr(at)deadgoodundies(dot)com.