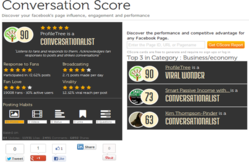 Facebook offers so many user engagement methods that can be used to attract more clients and spread the word on any business." -Ciaran Connolly, Co-Founder of ProfileTree
London, UK (PRWEB) April 20, 2013
One of the foremost questions for a small business owners is advertising, the trend currently is spending less money on paid advertising and more effort on free advertising via social media such as Facebook, Twitter, Google + and others. ProfileTree created and released recently a guide on Facebook engagement that aims to help small business owners.
Ciaran Connolly, Co-Founder of ProfileTree suggests using Facebook to engage fans on daily basis with promotions, surveys and questions. " Facebook offers so many user engagement methods that can be used to attract more clients and spread the word on any business."
Small business owners need the master the art of promoting the business online instead of paying money for advertising that may or may not bring in as much revenue as expected.
About ProfileTree: ProfileTree is a free listing service where self employed and small business owner can create an online marketing profile. From Pencil or Portrait Artist to Self Employed Service Providers - anyone can create a skills profile on ProfileTree for free.