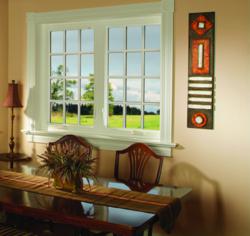 Streetsboro, OH (PRWEB) April 19, 2013
Soft-Lite Windows has introduced a unique, new option—Simulated Divided Lites (SDLs)—for its vinyl windows and patio doors. Simulated Divided Lites let homeowners replicate the look of true "divided-lite" windows to maintain their home's classic, historical character. These Simulated Divided Lites are made by applying contoured grids during the production process to the outside of both the interior and exterior panes of Soft-Lite windows and doors with double- or triple-insulating glass. The grids are permanently adhered to the glass with a remarkably strong, high-performance adhesive.
SDLs are now available on Soft-Lite Elements and Imperial LS Windows and Kingsroyal Glide Sliding Patio Doors. Products with Simulated Divided Lites are available with all of Soft-Lite's high-performance Low-E glass systems to make homes more comfortable and help lower home energy costs. SDLs are also offered in all of Soft-Lite's interior and exterior colors options, so they can be color coordinated to match any home.
Soft-Lite is a vinyl replacement window and door manufacturer headquartered in Streetsboro, Ohio. The company is a multiple Crystal Achievement Award winner and is also a recipient of the Friedman Corporation Customer Appreciation Award, the Window & Door Top 100 Manufacturers recognition, and the Door and Window "Companies To Watch" recognition. For more information, visit http://www.soft-lite.com and http://www.gorell.com.