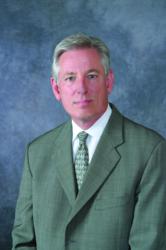 Pasadena, California (PRWEB) April 23, 2013
Madison Realty Companies announces that William E. (Bill) Kugler has been appointed as their National Sales Director.
"Bill was selected from an extremely talented pool of candidates and we are excited to welcome him as our National Sales Director," stated CEO Gary Langendoen.
Bill Kugler has more than 25 years of experience in the securities field. His experience includes raising capital in the investment community for national firms such as Wells Real Estate Funds of Norcross, GA. Kugler has served as Vice President of Marketing and as National Accounts Manager for companies such as SunAmerica Securities, Dreyfus Mutual Funds, and Federated Investors involving mutual funds, pension fund programs and asset management accounts. He obtained a Bachelor of Science degree in accounting from Pennsylvania State University in 1979 and holds NASD series 6, 7, 24, 26, 63 licenses.
As National Sales Director, Kugler will be the national marketing leader, supervisor of wholesalers and administrator of all sales functions at the corporate office. He will expand and enhance relationships with financial advisors, broker dealers, Registered Investment Advisors, and family offices focusing primarily on managing the diversified capital raising efforts to purchase single family homes and senior living properties.
Madison currently has two offerings available for investors: a 25102(n) offering for qualified California residents and a Regulation D offering for U.S. accredited investors.
The 25102(n) offering, Madison Realty Homes Recovery, LLC, buys single family homes in Southern California at distressed prices from auctions and short sales. The homes are then upgraded for rent or resale. Madison has already purchased over $20MM of homes in the past two years from previous offerings. The current program will raise $5MM and is offered to qualified California investors.
The Regulation D offering, North American Senior Properties, LP, will buy five assisted living properties in Colorado and Nebraska. The raise amount is $5MM of capital. Madison has owned and managed 14 senior properties over the past five years.
Madison Realty is comprised of a talented Senior Management Team whose expertise spans over 35 years and three real estate cycles. This level of experience is instrumental in structuring and managing commercial real estate investment programs that are in sync with today's market. One of our investment products of focus is buying distressed single family homes at discounts in Southern California for resale or for rental income. Madison Realty also specializes in buying existing and income generating Senior Assisted Living Properties where the property values are increased through a process of adding memory care sections and construction of additional rooms. Madison manages senior assisted living properties nationwide and over the past five years has managed $2B of assets including commercial properties, apartment complexes, senior living properties, and single family homes.