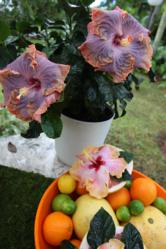 From the busy homeowner to the small-space apartment dweller, the Tropic Escape Patio Collection offers brilliant, full-color outdoor interest from spring through fall.
Miami, FL (PRWEB) April 23, 2013
With winter and its monochromatic landscape in the rearview mirror, it's time to think spring bling with colorful plants for patios, porches and garden beds.
A vibrant outdoor experience doesn't require endless hours of bending and digging. It's as easy as pairing and potting the big, bright blooms of hibiscus and mandevilla found in the new Tropic Escape Patio Collection from Costa Farms, a family-owned plant grower in southern Florida.
"From the busy homeowner to the small-space apartment dweller, the Tropic Escape Patio Collection offers brilliant, full-color outdoor interest from spring through fall," says Karen Weir-Jimerson, garden editor and expert for Costa Farms. "Best yet, these plants bloom non-stop and are easy to care for."
Whether in the far reaches of Maine or the sun of the South, Tropic Escape will turn any patio or deck into an outdoor oasis.
Tropic Escape Hibiscus
No plant offers a touch of the tropics quite like Tropic Escape hibiscus. This brightly colored flowering shrub bursts with some of the biggest, most flamboyant blooms around—up to seven inches across. And the color range and mixes are enough to make even a rainbow jealous.
Sold in citrus-hued deco pots, adding color to the patio or porch is as easy as placing the plants and enjoying the instant view. Or, simply pot them up in existing containers, alone or in groupings with other plants.
"The deep-green, shiny leaves of the Tropic Escape hibiscus provide a perfect backdrop for its own showy blossoms and other colorful plants," according to Weir-Jimerson.
Tropic Escape Mandevilla
With a trumpet-shaped flower that heralds the glory of summer sunshine, the Tropic Escape mandevilla brightens outdoor spaces all season long. Thriving in hot summer weather, it pumps out flowers in pink, red, fuchsia and white.
"The beauty of the Tropic Escape mandevilla is not just in its blossoms—it's in the plant's ability to make a home just about anywhere," notes Weir-Jimerson.
Whether in fantastic pottery, lush window boxes or in a garden bed, this twining and climbing plant splashes its tropical splendor wherever it goes.
"Have them climb along a trellis or fence, trail from containers and window boxes, or crawl along and over a garden bed—wherever they land, these mandevillas sparkle," adds Weir-Jimerson.
Tropic Chic
For an even more lush affair, pair Tropic Escape hibiscus and mandevilla together in the same combo pot or in-ground planting. A humdrum porch becomes a tropical paradise instantly—and with very little fuss.
Caring For the Tropic Escape Collection
With just the right placement and routine care, the Tropic Escape hibiscus and mandevilla will grow and bloom gloriously from spring to fall. Click here for a few easy-care tips.
Finding Your Tropic Escape
A backyard getaway is just moments away, thanks to the Tropic Escape Patio Collection. Find these hibiscus and mandevilla under the bright-red Tropic Escape umbrella at the local home improvement store or mass merchandiser.
For more care information, visit http://www.costafarms.com and check out the video tips here.
About Costa Farms
Costa Farms is one of the largest producers of indoor houseplants in the world. Founded in 1961 by Jose Costa, Costa Farms is a third generation, family owned business that globally stretches over 3,800 acres and employs 2,800 people. Along with thriving indoor, bedding and perennial plant divisions, Costa Farms operations are located in Florida, North Carolina and South Carolina, and abroad in the Dominican Republic, and Far East.