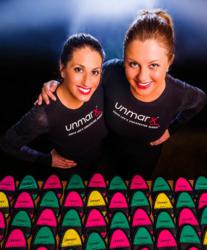 We couldn't find one product that would work on different clothing marks, so we decided to invent our own wardrobe must-have.
Rochester Hills, Michigan (PRWEB) April 23, 2013
A unique portable cleaning product for clothes, Unmarx, was recently launched by Stance, LLC and is now available for purchase online at http://www.unmarx.com.
Unmarx was developed to erase stubborn marks on clothing. The hand-sized pad features a unique mesh cleaning surface that is safe on most fabrics, requires no water for cleaning and no refill to buy. It can be used to remove a variety of dried substances from clothing, including dirt, salt residue from cars, deodorant marks, and makeup or baby powder. In addition, it can also be used to wipe off lint or pet hair from clothes.
Unmarx is the invention of sisters Stephanie and Nancy Tomovska of Rochester Hills, Michigan in response to the need for a portable and reusable cleaning product to keep their business attire looking its best throughout their busy day.
"We were both on-the-go all the time and really needed something to get rid of those annoying marks that you often get on clothes throughout the day," Nancy Tomovska said. "We couldn't find one product that would work on different clothing marks, so we decided to invent our own wardrobe must-have."
Stephanie Tomovska said they started with the product design idea and then bought different materials and assembled their own demo versions of the product to test.
"We were working at the local library during our free time to launch the product and even used the librarians as a focus group to help us with product improvements," she said.
They eventually contracted with a local manufacturing company in Michigan to perfect and produce the product, and launched an e-commerce website to sell it.
A series of good reviews on product blogs help drive people to its website to purchase Unmarx, and it was also recently selected to be in Swag Bags for Celebrities and VIPs at the 70th Annual Golden Globe Awards. Unmarx was given to Hollywood celebrities attending the Golden Globe Awards at the Station Hollywood Gifting Suite W Hotel in Hollywood.
"The Golden Globe Awards really gave us an opportunity to show celebrities how well the product worked, and we received a lot of great publicity and even comments on Twitter and Facebook from many of them telling us how much they like it and use it, "Stephanie Tomovska said.
Unmarx is available in a variety of colors and retails online for $9.99 plus shipping. A portion of the proceeds is donated to Living Beyond Breast Cancer. Unmarx can also be purchased in selected Walgreens, boutiques and pet supply stores in Michigan.
Nancy Tomovska said the goal is to expand distribution in retail outlets nationally by the end of 2013.
For more information on Unmarx or to order the product, visit http://www.unmarx.com. For large orders, contact Unmarx at 877-807-6055.