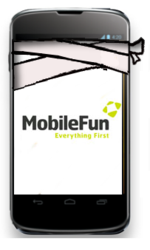 One lucky entrant will win a brand new Nexus 4
Birmingham, UK (PRWEB UK) 22 April 2013
Mobile Fun, the UK's leading online retailer of mobile phone accessories, are pleased to announce that to celebrate their "Smartphone Surgery", they will be giving away one brand new Google Nexus 4 phone.
For the next two weeks, Mobile Fun is running a surgery on their Facebook page to answer any technical or hardware-based questions people might have. They are also trying to find the most spectacular way that people have broken their phones, as well as hand-picking some of the products best designed to avoid mobile-related mishaps. With everything from iPhone 5 covers to HTC One screen protectors, Mobile Fun has everything you could possibly need to keep your beloved mobile pristine.
However, sometimes accidents happen, and that's where the Nexus 4 giveaway comes in. One lucky entrant will win a brand new Nexus 4. The Nexus 4, Google's flagship phone, has won numerous awards and is widely considered one of the best phones available, with high end performance and the latest version of the Android operating system. In addition, it is one of the phones with the best range of protective cases available at Mobile Fun, such as the excellent Rearth Ringke Fusion Case, so lightning won't strike twice for the winner.
The giveaway is available here, and those who tell their friends via Twitter or Facebook, or who share their most elaborate phone breaking story will be rewarded with additional entries.