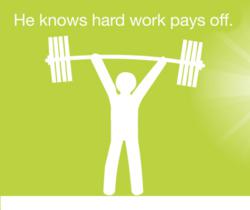 "Hydrogen Advertising helped Sterling Bank have a presence during the high-profile 2012 Summer Olympics," said Claire Roberts, Sterling Bank.
Seattle, Washington (PRWEB) April 19, 2013
Hydrogen Advertising and its client Sterling Bank have been honored with digital advertising's most respected prize: The Webby Awards. The agency was selected along with nine other global honorees in the Banner Campaign category. Hydrogen helped Sterling Bank "own the stage" during last year's Summer Olympics with added-value media units in a Comcast Summer Olympics buy.
"The Webby Awards is the most coveted digital award in the advertising industry – and beyond," said Mary Knight, executive creative director at Hydrogen. "Honorees of 'The Webbys' are expected to do more than deliver great ideas with great results. They're expected to lead popular culture and innovation."
While not an official Olympic sponsor, Sterling Bank's banner campaign included prominent animated banner ads that appeared only on the Olympics portions of Comcast online properties. By acknowledging the hard work of Olympic athletes, the campaign leveraged Sterling's "Nobody works harder for you" position with a simple, respectful salute: that Sterling Bank "knows hard work when we see it." The banner campaign ads can be seen here: http://www.hydrogendigital.com/webby_awards/sterling_bank_campaign/.
"Hydrogen Advertising helped Sterling Bank have a presence during the high-profile 2012 Summer Olympics," said Claire Roberts, Sterling Bank vice president and marketing director. "The beautifully executed online campaign seamlessly and respectfully linked our brand to the global event, reinforcing the Sterling Bank difference."
Chosen from more than 11,000 entries from all 50 U.S. states and more than 60 countries worldwide, recognition in "The Webbys" puts Hydrogen and Sterling among an elite group of brand and marketing leaders including Google, Pinterest, Skype, Instagram, BBC News, CNN, The Guardian, The New York Times, Wikipedia, ESPN, Comedy Central, PBS, The Huffington Post, the Sundance Channel, and The Onion.
The Webby Awards is the leading international award for excellence on the Internet. Established in 1996 during the Web's infancy, the awards are presented by the International Academy of Digital Arts and Sciences—a 1,000+ member judging body including leading Web experts, business figures, luminaries, visionaries and creative celebrities, former Webby Award honorees and nominees, and other Internet professionals.
For more information about the Webby Awards, visit http://www.webbyawards.com.
About Hydrogen Advertising
Founded in 2001 by a group of Seattle's most strategic and savvy advertising and marketing veterans, Hydrogen Advertising provides a full suite of marketing services. Collaboration is a hallmark of the agency's approach and success--the Hydrogen team works as a seamless extension of its clients' marketing departments. The agency's forte is creating integrated marketing programs that deliver specific outcomes. Agency clients include Sterling Bank, The Polyclinic, Kenworth Truck Company, eBay, WESTliving, and Agilent Technologies. http://www.hydrogenadvertising.com
About Sterling Bank
Sterling Savings Bank, the principal operating subsidiary of Sterling Financial Corporation (NASDAQ:STSA) of Spokane, Wash., is a Washington state chartered and federally insured commercial bank. Sterling Savings Bank does business as Sterling Bank and Sonoma Bank (in California). Sterling offers banking products and services, mortgage lending, and trust and investment products to individuals, small businesses, corporations and other commercial organizations. As of Dec. 31, 2012, Sterling had assets of $9.24 billion and operated depository branches in Washington, Oregon, Idaho and California. Visit Sterling's website at http://www.bankwithsterling.com.