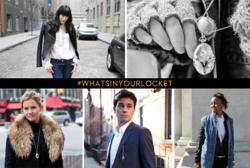 New York, NY (PRWEB) April 23, 2013
Monica Rich Kosann announces the launch of #WhatsInYourLocket, a digital campaign that celebrates the storytelling aspect of lockets. Starting today, consumers can upload images of themselves wearing their own lockets while answering the question, "What's in your locket?" to be entered into a contest to win a Monica Rich Kosann sterling silver locket. The MRKStyle team collaborated with photography students from FIT as part of the campaign for a street-style feature and also photographed tastemakers wearing the same locket, with a sentence about what would be inside theirs. Both features can be viewed on MRKStyle, the brand's e-magazine.
To enter the contest, consumers can either upload their own image using the #WhatsInYourLocket hashtag on Instagram, Twitter and Facebook, or submit their image via e-mail to wiyl(at)monicarichkosann(dot)com. On May 20th, the contest will conclude and Jade Frampton, Senior Market Editor of ELLE, will choose three winners to receive the locket and be featured on both ELLE.com and MRKStyle.
"A locket allows a woman to capture, celebrate and share her story," says Monica Rich Kosann, Founder and Designer of Monica Rich Kosann. "The #WhatsInYourLocket campaign epitomizes our brand's essence of storytelling by inviting students, tastemakers and our customers to share their stories with us."
As a brand built on storytelling, Monica Rich Kosann creates enduring pieces of jewelry that tell the personal story of the women who wear them. The #WhatsInYourLocket campaign began with photography students from FIT, who were given a Monica Rich Kosann sterling silver locket and challenged to capture unique street-style shots of friends and passersby wearing the piece, while answering the question, "What would be in your locket?" The photos were featured under the "FIT" heading on MRKStyle and the winning photograph will be included in The New York Times Sunday Styles Section as part of the brand's 2013 ad campaign.
Monica and the MRKStyle team have also photographed people on the street as well as an elite group of New York tastemakers wearing the locket, who will be featured under "Street" on MRKStyle, including Athena Calderone, Cameron Silver, Kerry Diamond, Kelly Framel, Jade Frampton, Jaqui Lividini, Felicia Gordon, and Jeremiah Brent, among others.
About Monica Rich Kosann
Monica Rich Kosann is a fine jewelry, home, and accessory brand with a shop at Bergdorf Goodman in New York and a distribution that includes Neiman Marcus and over 100 fine jewelers and specialty stores. Monica designs with the belief that every woman has a story to tell. Her eponymous fine jewelry and home collections offer modern heirlooms that maintain a sense of fashion and timeless style. Monica is known for18-karat gold and sterling silver lockets, charm bracelets and other fine jewelry pieces as well as image cases and frames.
For more information, please visit:
mrkstyle.com/wiyl
shop.mrkstyle.com
monicarichkosann.com
Facebook.com/MonicaRichKosann
Twitter.com/MRKInsider
#WhatsInYourLocket