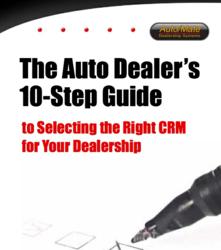 "This eBook gives auto dealers the tools to select the right CRM for their needs," said Mike Esposito, President and CEO of Auto/Mate.
Albany, NY (PRWEB) April 22, 2013
In a recent survey conducted by Auto/Mate, more than 100 dealers were asked what the most important consideration was when choosing a new Contact Relationship Management (CRM) system. Whether the system integrates with their dealership management system (DMS) was ranked as the most important, with cost being the second most important consideration. To guide dealers through the selection process, Auto/Mate Dealership Systems today released a free eBook, "The Auto Dealer's 10-Step Guide to Selecting the Right CRM for Your Dealership."
"I am surprised how often we get asked about CRMs since we are a DMS vendor," said Mike Esposito, President and CEO of Auto/Mate. "This eBook does not recommend any particular features or cover what the latest CRM trends are, but instead gives dealers the tools they need to select the right CRM for them."
Several industry consultants were interviewed and contributed their expertise and experiences towards the eBook; including Paul MacDonald of TriMac Automotive Advisory Group, Joe Webb of DealerKnows, Jim Skeans of Jim Skeans Consulting Group and Ray Fenster of RayFenster.com.
All of the consultants agree that many dealers are spending unnecessary money on CRM features they don't need or use—not because advanced CRM features aren't useful but because the dealership has not attained the level of usage or buy-in required by users. The eBook provides dealers with concrete steps on how to assess their current usage, set measurable objectives for both ROI and employee participation, form a selection team and so on, until they reach the final step of choosing a CRM appropriate for the dealership's needs.
To download the free eBook, visit http://www.automate.com/publications/crm-ebook.html
About Auto/Mate
Auto/Mate Dealership Systems is a leading provider of dealership management system (DMS) software to retail automotive dealerships. Its Automotive Management Productivity Suite (AMPS) is a user-friendly, feature-rich DMS in use by more than 900 auto dealers nationwide. Auto/Mate received a "highest rated" dealer satisfaction award by Driving Sales.com and the company received top satisfaction rankings in NADA's most recent DMS provider survey.
Auto/Mate's employees have more than 300 years of combined experience working in auto dealerships – the foundation of its "designed by car people, for car people" slogan. For more information, visit http://www.automate.com and follow us on Twitter @AutoMateDMS