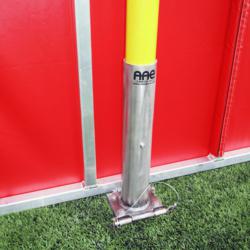 The number of schools opting to have their fields serve multiple sports is growing exponentially, so any product that expedites that functionality will be in high demand.
Royersford, PA (PRWEB) April 19, 2013
AAE (Aluminum Athletic Equipment Co.), a leading U.S. manufacturer of sports equipment, created an innovative product adaptation for its Aluminum Foul Poles for use in one of Rutgers University's multi-purpose fields - allowing it to be converted from a softball field into a soccer field on a daily basis while maintaining the appearance of a single sport field. While AAE's semi-permanent Removable Outfield Wall and Aluminum Foul Poles were selected and installed to furnish the softball field, the traditional foul pole ground sleeves already installed were not conducive to frequent removal; therefore, AAE designed a custom stainless steel hinged apparatus utilizing the existing foul pole ground sleeve to permit a safer, easier removal and re-installation and also provide proper anchoring when the product is in use.
"When Rutgers came back to us wanting removable foul poles," stated AAE Product Designer Adam Driscoll, "I knew our solution would be transferable to many of our customers and their multi-purpose fields. The number of schools opting to have their fields serve multiple sports is growing exponentially, so any product that expedites that functionality will be in high demand."
This newly designed Hinged Foul Pole Model, which is streamlined utilizing only a 4" diameter ground sleeve, is adaptable to both AAE's Winged or Straight Foul Pole models. Winged Foul Poles are typically selected because they are superior to Straight Foul Poles for determining fair balls from foul ones - any part of pole or wing hit is still a fair ball. The Winged model has an offset screen "wings" fabricated of a 1-1/2" aluminum diamond pattern mesh, encased on the entire perimeter by a slotted, welded aluminum frame for maximum rigidity. Main post fabricated of either 4" diameter heavy-wall structural aluminum tube for 22' above ground model or 6" diameter heavy-wall aluminum tube for 30' above ground model. Both models feature a white or yellow powder-coated finish for high visibility and minimal maintenance.
AAE's ROW Series - Removable Outfield Walls are the perfect solution for multi-use fields that cannot have a permanent fence installed for baseball or softball. The padded removable sections offer a higher level of safety to playing fields than typical steel fences and flimsy PVC ones. Available in two heights, 4' high and 5' high, the ROW features welded aluminum frames manufactured in standard 10' sections. The heavy-duty welded aluminum posts 2-1/2"sq. heavy-wall with rounded corners install into a sub-surface aluminum ground sleeve that includes a cap for when product is removed. Padding is comprised of a 3" thick dual layered foam, encased in an 18oz. double knife-coated vinyl in color of choice. Military spec hardware for pad attachment to frame.
AAE has prided itself on this type of innovation since inventing and patenting the aluminum rocker hurdle in 1950 for the track marketplace. Over the decades, AAE has introduced a multitude of new products for use by coaches and athletes worldwide. With the use of advanced technology and design innovations, the firm makes over 500 items, including: track hurdles; track starting blocks; discus cages; hammer cages; shot cages; pole vault pits; high jump pits; long jump pits; permanent football goalposts, portable football goal posts, rotating or hinged football goal posts; semi-permanent or portable soccer goals; field hockey goals; lacrosse goals; baseball batting cages; baseball foul poles; ball stopper protective sports netting; portable press boxes; team benches; portable bleachers and Kronum goals. AAE develops, fabricates and assembles most products at its Royersford headquarters and manufacturing location near Philadelphia. For more product information call 800-523-5471 or visit myAAEworld.com.