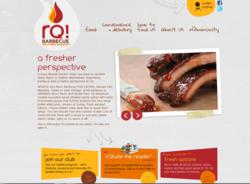 We are very excited to have our new website ready to launch with our store. This website will be a great marketing tool for our store.
(PRWEB) April 23, 2013
Nothing goes quite as well with warm weather and summertime as barbecue does. With the heat gearing up to roll in, so are the great tastes of rQ! Barbecue. rQ! is the new barbecue restaurant in Shorewood Illinois and has just launched their new website with the help of Idea Marketing Group.
rQ! has dishes that will make you drool and the growling stomachs will be heard for miles. With the launch of their website, prepare yourself to feel the rQ! grumble. They brought Idea Marketing Group on board to build a website that looked just as appetizing as the food they make. Working together resulted in a website that is not only what rQ! was looking for, but a website that has far exceeded their expectations.
One of the features that pose benefits to website visitors is online ordering. This feature allows customers to place an order online which they have the option to pick up in store or via the drive-thru at the Shorewood barbecue restaurant. This provides customers with a variety of convenient options if they aren't up to dining in the restaurant. Another great thing is that rQ! also has launched a mobile website for those who are "on the run" and want to check out the menu from wherever they are. If someone is out and about and craving down home barbecue they can check out the rQ!'s mobile website to view a menu and give them a call. If the thought of driving doesn't sound nearly as appetizing as the food, customers can easily access rQ!'s full online menu and place an order for delivery. This way they can enjoy the great flavors from the comfort of wherever they want.
rQ!'s website hosts a variety of ordering options, they want customers to know that not only are they here to serve the best food and service but also better the community as a whole. rQ! barbecue supports all local readership programs; they are happy to engage in the community and make it a happier place.
To check out the new rQ! Barbecue website or to learn more about their involvement, please visit http://www.rqbarbecue.com.