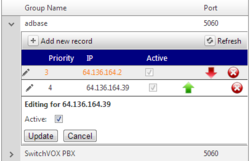 If our customers aren't getting these notifications, then they might never know they have an issue that needs fixed.
Pittsburgh, PA (PRWEB) April 22, 2013
This week, VoIP Innovations has deployed a system that will notify customers when there is an issue with their server. The idea for this service was formulated around customer experience and account security, as well as to save customers time and money.
VoIP Innovations has developed systems that send out notifications for various issues that customers face daily. One alert that they have already deployed is for international calling problems. Those alerts will alert the customer if their international spending threshold has been reached. This is in an effort to combat international VoIP fraud that is plaguing the VoIP industry. VoIP Innovations' most recent notifications are designed to alert customers of inbound call failures where the switch doesn't respond to an invite. These notifications have been deployed to catch consistent failures on inbound calls to a specific IP address. If the customer doesn't have a failover in place, this would alert them to fix an issue with their switch.
Notifications are sent out in a very specific method because VoIP Innovations does not want to bombard their customers every time there is an issue. Instead, customers will get a notification once 50% of the failure threshold has been reached. Once the initial notification is sent, the customer should address the issue immediately. If the issue is still found after one hour of the first notification, then a second notification will be sent out reminding of them of the issue.
"We have decided that this service will be standard to all of our customer accounts with no 'opt out' option," said Jason Tapolci, President of VoIP Innovations. "If our customers aren't getting these notifications, then they might never know they have an issue that needs fixed."
These notifications will provide the customer with the total number of calls, the total number of calls that received no response, the Endpoint Group number and name, and the IP address the calls were sent to. The information that VoIP Innovations includes in these alerts is designed to make their customers lives easier. If you want a more detailed explanation of what these notifications offer, please visit the VoIP Innovations Wiki article.
VoIP Innovations is an Inc. 5000 company that specializes in providing the largest DID and termination VoIP footprints in North America. Their network includes over 500,000 DIDs in stock in over 8,500 rate centers in the US and Canada. Recently, VoIP Innovations expanded their footprint to include DIDs in over 60 countries and now offers A-Z termination. VoIP Innovations is owned by ABG Capital and is based in Pittsburgh, PA. To learn more about VoIP Innovations, visit their blog at http://voipinnovations.com/blog/.