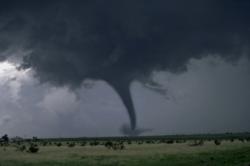 LINCOLN, RI (PRWEB) April 19, 2013
According to the National Weather Service, tornadoes are most prevalent from March through June – especially in the Southeast – and they cause an average of 60-65 fatalities and 1,500 injuries per year. With wind speeds occasionally reaching more than 200 mph, tornadoes can span more than a mile and stay on the ground for more than 50 miles.
But other information regarding these storms isn't always factual, and Amica Insurance is sharing some of these myths from the National Weather Service:
Myth: Tornadoes don't cross rivers.
Truth: While some landforms can have an effect on their path, rivers don't have a clear influence on tornadoes.
Myth: You should open windows in your home to equalize pressure.
Truth: By opening windows, you're simply allowing more air to rush inside, similar to inflating a balloon. That pressure can eventually lead to your home collapsing.
Myth: Move to the southwest part of a building for safety.
Truth: The best place to ride out a tornado is in the center of a building in a small, reinforced room. Bathrooms or closets are excellent options.
Myth: Tornadoes skip around.
Truth: The path of tornadoes can lead to the destruction of some buildings, while others nearby are left with minimal damage. That doesn't mean that the storm is skipping, however. The buildings that weren't badly damaged may have been constructed better, or their orientation made them less vulnerable.
About Amica Insurance
Amica Mutual Insurance Co., the nation's oldest mutual insurer of automobiles, was founded in 1907. The company, based in Lincoln, RI, is a national writer of automobile, homeowners, marine and personal umbrella liability insurance. Life coverage is available through Amica Life Insurance Company, a wholly owned subsidiary. Amica employs more than 3,200 people in 40 offices across the country.
CONTACT: Vince Burks, Corporate Communications, 50 Amica Way, Lincoln, RI 02865-1155, 800-652-6422, ext. 24563
Twitter: Amica
Facebook: Amica Mutual Insurance Co.