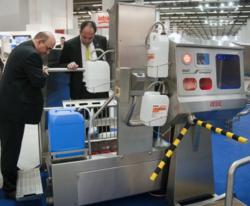 "The team at Carometec is excited and proud to be exhibiting in Germany," Jeb Supple of Carometec exclaims. "Our exhibit for ITEC/ATTEC company group is located at 9.0 E34."
Peosta, Iowa (PRWEB) April 21, 2013
Carometec, a world leader in meat quality equipment for the food industry is pleased to announce their participation as an exhibitor in the 2013 IFFA Show in Frankfurt, Germany, May 5-9, 2013.
Since 1949, the IFFA international trade fair, held every three years, has provided food processing industry members and visitors from around the world the opportunity to share the latest developments in products and services for processing, packaging and sales in the meat industry.
IFFA's website boasts, "In 2010, 58,000 trade visitors from around 130 countries came to Frankfurt to see the range of products and services offered by 949 exhibitors. Only IFFA covers the entire meat-processing chain from slaughtering, via processing and packaging, to sales. The strengths of the fair include the large number of international exhibitors and visitors, the presence of all market leaders and the highly innovative products and solutions on show."
"The team at Carometec is excited and proud to be exhibiting in Germany," Jeb Supple of Carometec exclaims. "Our exhibit for ITEC/ATTEC company group is located at 9.0 E34."
Carometec has operated in the United States for more than 15 years, while the company has conducted business in Denmark for nearly thirty years. As a leader in carcass grading equipment for slaughterhouses, Carometec has introduced new meat grading methods which have advanced the competitive edge for processors around the world. In addition, the company has been at the leading edge for food handling equipment, food safety technology and illness prevention clean storage since long before the issues grew to the current level of industry and public awareness. As a leading manufacturer of rugged, high quality customizable automatic sanitation equipment, their product line includes hand sanitizing systems, boot cleaning machines and more for quality assurance and sanitation compliance.
Carometec's "in-house" product developers continuously create new solutions for their worldwide customer base and improve their existing product offering to keep pace with the industry's needs. The latest in Carcass Grading Solutions, Traceability Systems, Meat Quality Measurement Equipment, and Livestock Equipment are more of the innovative products that the company offers. Learn more about Carometec by visiting http://www.carometecusa.com/.
About the 2013 IFFA Show: This show is for trade members and is not open to the general public. For more information on exhibitor Carometec's boot cleaning machine or other automatic sanitation equipment, visit their website at http://www.carometecusa.com/about-us/ or give them a call at: 563-582-4230, today!