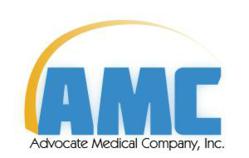 "Lubrigyn Cleansing Milk, which will be available at CVS pharmacies, is great for individuals with sensitive skin and for those who must avoid products with hormones, parabens or hydrocarbons."
Fort Lauderdale, FL (PRWEB) April 22, 2013
The exclusive distributor for Lubrigyn, Advocate Medical Company (AMC), announced today that they have significantly expanded distribution at the national level. Previously focused on regional markets by targeting independent pharmacies and their wholesalers, company officials have announced that Lubrigyn Cleansing Milk will be available OTC to all consumers at CVS pharmacies later next month. This expansion complements the availability of the company's product lines – Lubrigyn and Proctonet – which are also available to consumers online.
Lubrigyn (Lubrigyn Cream and Lubrigyn Cleansing Milk) and Proctonet (Proctonet Liquid and Proctonet On The Go Cream) are pH balanced products formulated with natural active ingredients and plant oil extracts. Lubrigyn products are for everyday feminine hygiene and long-lasting moisturizing lubrication. Product packaging is bilingual in English and Spanish.
"We are excited to be able to get Lubrigyn Cleansing Milk into the hands of more consumers nationwide. Lubrigyn has natural ingredients that are so wonderful for the skin. Plus, it does not need water and can be used as often as necessary", said company President, Kelly Pulido. She added, "Lubrigyn Cleansing Milk, which will be available at CVS pharmacies, is great for individuals with sensitive skin and for those who must avoid products with hormones, parabens or hydrocarbons."
"Natural formulations of feminine hygiene products are a welcome addition to our armamentarium; a growing national distribution will make them easier for our patients to find", said OB/GYN specialist Pablo Uribasterra, MD of FemLife Healthcare for Women located in Pembroke Pines, FL. FemLife Healthcare for Women is a multi-physician group that offers a full range of Obstetrical and Gynecological services.
The company also announced that it will be attending the 61st annual clinical meeting of the American College of Obstetrics and Gynecology (ACOG) in New Orleans, May 4 - 8, 2013. Kelly Pulido noted, "This is our second year in a row of reaching out to OB/GYN specialists with both Lubrigyn and Proctonet at ACOG. We will continue to reach out to the medical community because our products offer numerous therapeutic advantages for all individuals at all stages of life."
Look in coming months for additional news about Advocate Medical Company and their available products. Information about the products can be found online at http://www.lubrigynusa.com and http://www.proctonetusa.com.
About Advocate Medical Company (AMC):
Advocate Medical Company is the exclusive importer and distributor of Uniderm Farmaceutici products in the USA and Puerto Rico. Uniderm Farmaceutici began over 35 years ago with a goal of developing and manufacturing products that are made for the skin without the use of drugs, hydrocarbons (mineral oils and petrolatums) or hormones. The company focuses on formulations using natural ingredients with a pH targeted for the specific part of the body. The result has been the launch of nine lines of products specifically formulated for men and women of all ages. Uniderm has introduced Lubrigyn and Proctonet into the United States via Advocate Medical Company. For more information about AMC, please visit http://www.advocatemedco.com/.
Contact:
To learn more about Lubrigyn and Proctonet products, please contact info(at)advocatemedco(dot)com, visit http://www.lubrigynusa.com or http://www.proctonetusa.com, or call 954-670-9973.