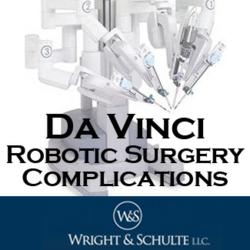 If you or a loved one has been injured by a da Vinci surgical robot contact Wright & Schulte LLC, a leading medical device injury law firm today at 1-888-365-2602 or visit www.yourlegalhelp.com
Columbus, OH (PRWEB) April 22, 2013
Wright & Schulte LLC, an experienced medical device law firm, is now investigating Da Vinci robotic surgery complications allegedly associated with the Da Vinci Surgical System manufactured by Intuitive Surgical, including burned and torn organs, punctured blood vessels, bowel injuries, cut and punctured ureters, excessive bleeding, infection and death. On April 15th, the first Da Vinci robotic surgery lawsuit trial in the nation opened in Washington State, as the family of a man who died of alleged Da Vinci robotic surgery complications claimed his injuries were the result of Intuitive Surgical's inadequate training program for physicians. According to a recent Bloomberg.com report, company e-mails introduced in a lawsuit filed against Intuitive suggest salesmen lobbied hospitals to scale back doctor training. In another, a manager told a sales team not to "let proctoring or credentialing get in the way" of meeting goals on the number of Da Vinci robotic surgeries. (Estate of Fred E. Taylor v. Intuitive Surgical Inc., 09-2-03136-5, Superior Court, State of Washington, Kitsap County)
[ bloomberg.com/news/2013-03-21/intuitive-
robosurgery-training-seen-lacking-in-lawsuits.html ]
[ nytimes.com/2013/03/26/health/salesmen-in-the-surgical-suite.html?pagewanted=all&_r=0 ]
Wright & Schulte LLC is now offering free lawsuit consultations to victims of alleged Da Vinci robotic surgery complications, including those who suffered:

Tears and/or burns of the intestines
Punctured blood vessels
Punctured and/or cut ureters
Severe bowel injuries
Vaginal cuff dehiscence
Excessive bleeding
Surgical burns
Sepsis
Peritonitis
Death
For more information on filing a Da Vinci robotic surgery complications lawsuit, or to arrange for a free legal consultation, please visit yourlegalhelp.com.
According to Bloomberg.com, the patient at the center of the Washington lawsuit allegedly suffered a series of catastrophic Da Vinci robotic surgery complications that eventually led to his death following a prostatectomy that turned into a 7-hour ordeal. He and his family were allegedly not told that the surgeon performing the procedure had never before operated unassisted on the da Vinci robot. The surgeon said in court papers that Intuitive led him to believe that two days training on the robot would allow him to reach basic competency, even though company consultants had reported that 20 operations were needed. According to Bloomberg.com, other documents introduced in Washington Da Vinci robot lawsuit indicate that prior to its approval in 2000, Intuitive told the U.S. Food & Drug Administration (FDA) that company would create a 70-question quiz and a three-day training course that all operating-room personnel would attend. However, off-site training was cut to one day, and the test to 10 questions just months after the Da Vinci Surgical System was launched.
[http://www.bloomberg.com/news/2013-04-16/intuitive-watered-down-robot-training-lawyer-says.html
According to Wright & Schulte, plaintiffs in Da Vinci robotic surgery lawsuits are not the only parties to have raised questions about Da Vinci robotic surgery complications. In January, the FDA launched a probe of the Da Vinci robot to determine if an increase in adverse events related to such procedures is a reflection of a real and growing problem. Among other things, the survey asked doctors to discuss their training on the machine, and to list any Da Vinci robot complications they may have observed.
[online.wsj.com/article/SB10001424127887324662404578332712134965802.html]
About Wright & Schulte LLC
Wright & Schulte LLC, an experienced personal injury firm, is dedicated to the belief that America's legal system should work for the people. Every day, the attorneys of Wright Schulte LLC stand up for the rights of people who have been injured or wronged, and fight tirelessly to ensure that even the world's most powerful corporations take responsibility for their actions. If you're looking for a law firm that will guarantee the aggressive and personal representation you deserve, please do not hesitate to contact Wright & Schulte LLC today. Free Da Vinci robotic surgery complications lawsuit case evaluations are available through yourlegalhelp.com, or call 1-800-399-0795.
Contact:
Wright Schulte LLC
812 East National Road
Vandalia, Ohio 45377
1-800-399-0795