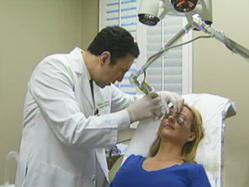 Los Angeles, California (PRWEB) April 19, 2013
According to a May 2013 article in Marie Claire magazine, getting perfect, clear skin is more sought after today than skin tightening solutions. The American Academy of Dermatologists suggests that the US market is rapidly trying to meet the market demand for the skin of youth, a trend that Asian audiences have been pursuing for years (Go to goo.gl/cKvqQ).
According to the article, smooth skin with no wrinkles or crow's feet is always highly valued, but skin without blemishes and that absorbs light may be even more highly regarded. When one is young and skin is at its pinnacle of health, melanocyte cells within the outer dermis supply pigment to the skin's surface providing an even tone. With aging this production decreases, so that the remaining pigment clusters up instead of spreading smoothly. The global beauty industry is banking on reversing this trend.
"In our medical practice at Epione, I'd say that the focus is on wrinkle correction and skin tightening though we also use laser treatments to address skin tone issues," says Dr. Simon Ourian, Medical Director of Epione Beverly Hills. "My over-the-counter Signature Series Restoration Firm & Lift Crème was specifically created to address skin tone and clarity."
The Marie Claire goes on to describe efforts around the world to meet the demand for flawless, bright skin:
In China, the trend is to use holistic medicine. A white rose known as rosa roxburhii grows in the Chinese mountains and is packed full of the anti-oxidants that reportedly combat skin aging by attacking blotchy complexions and evening coloration. The French are using sugar structures to boost the strength of skin cells that produce spots when they receive too much melanin. Vitamin C derivatives are said to help the skin reflect more light and appear to be glowing.
Israeli dermatologists have used a compound rich in melanozyme, an enzyme developed from tree fungal growths that keep facial skin from developing the dark spots that lead to discontinuity in tone. In Japan whitening cultures are used to actively keep dark spots from producing. Kojic acid, for example, eliminates free radicals that lead to melanin production.
"The ideal of beauty is ever changing and may be different from place to place and country to country," concludes Dr. Ourian. "It's my job as a cosmetic practitioner to meet the aesthetic goals of my patients."
Dr. Ourian has been a pioneer in laser technology and non-invasive aesthetic procedures including Restylane, Juvéderm, Radiesse and Sculptra. These treatments are used for the correction or reversal of a variety of conditions such as acne, acne scars, skin discoloration, wrinkles, stretch marks, varicose veins, cellulite, and others. More information about the rising concern over skin tone can be found on Epione's website.