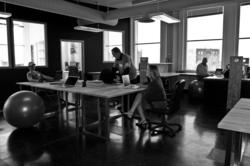 "As we are poised to continue our growth, the new space will also allow us to expand our team and capabilities further."
Bellingham, Washington (PRWEB) April 30, 2013
Red Rokk Interactive, a digital media marketing agency in Bellingham, Wash., is expanding its team and its office space. The firm has relocated to the top floor of a five-story multi-tenant office building in the heart of downtown Bellingham, Wash.
Since the first of the year, Red Rokk has welcomed five new employees. Due to the growth of the company, a larger office space was essential. The new office is three and half times the size of Red Rokk's previous office, providing more conference room and meeting space. The new office also allows the company to expand its offerings, such as hosting monthly education sessions open to the public and providing twice-weekly yoga classes for employees.
The large, open workspace provides a collaborative environment that is important to Red Rokk's president Tyler Byrd as a way to generate and maintain a corporate culture based around having fun to create excellent deliverables. In turn, Byrd hopes the Bellingham marketing company's reputation grows, drawing more highly talented team members.
"The new, larger office is an ideal creative work space," Byrd said. "As we are poised to continue our growth, the new space will also allow us to expand our team and capabilities further."
Red Rokk Interactive is a full-service marketing firm based in Bellingham, Wash., and serving clients internationally. Red Rokk has worked with high-profile companies including H&M, Papa Murphy's and Body Glove. The company combines traditional, digital and new media marketing and e-commerce capabilities to provide clients with custom-tailored solutions.
Red Rokk is located at 114 W. Magnolia, Ste. 505, Bellingham. Find Red Rokk Interactive online at http://www.redrokk.com.