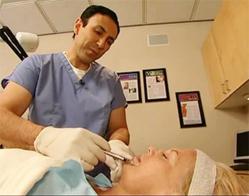 Los Angeles, California (PRWEB) April 20, 2013
According to an article in the May 2013 issue of W Magazine, great progress has been made in conquering the battle against aging with injectables that help minimize the appearance of fine lines and wrinkles. One of the primary causes of wrinkles is known as deflation. By the age of 50 to 60 years old many people have lost twenty percent of facial bone and fat, leaving sagging skin and a gaunt appearance. (Go to goo.gl/hrcaO).
One of the newer procedures included in the article was developed in the UK and is known as Reflation. This technique involves injections of a hyaluronic acid based filler deep below the skin's surface so that it sits on top of the bone and props up the skin. This treatment is said to be highly effective for the cheeks, nasolabial folds, temples, and under the eyes.
The nose can also show signs of aging by drooping over time resulting in a long and flattened appearance. Fillers can be placed on the cartilage, bone, or tip of the nose for a more youthful look. "I've been offering my patients a non-surgical nose job for years," says Dr. Simon Ourian, Medical Director of Epione Beverly Hills. "Patients are amazed at the aesthetic impact of a few properly placed injections."
Just below the nose, the lips show signs of aging with the development of fine lines around the lips. One of the newest injectables mentioned in the article is Belotero Balance, a dermal filler that is reportedly preferred by physicians because other fillers have a blue tinge that is noticeable in the lip area.
Carboxy is a procedure that gained popularity in Brazil in 2002. Small needles are used to inject small amounts of CO2 under the eyes to improve capillary functions and thereby reduce dark circles under the eyes by 50%. "I'd have to see significant scientific evidence of this treatment's safety and efficacy before I offer it to patients," says Dr. Ourian.
Voluma is a new filler that comes from the manufacturer of Juvéderm. It is thicker than most fillers allowing it to be injected under the muscle layer and sculpted into the desired look. "Doctors in the U.S. are still waiting for FDA approval of this filler," concludes Dr. Ourian.
Dr. Ourian has been a pioneer in laser technology and non-invasive aesthetic procedures including Restylane, Juvéderm, Radiesse and Sculptra. These treatments are used for the correction or reversal of a variety of conditions such as acne, acne scars, skin discoloration, wrinkles, stretch marks, varicose veins, cellulite, and others. More information about reversing deflation can be found on Epione's website.