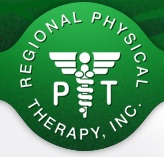 We're planning to serve more people [with the Affordable Care Act], and we thought it was necessary to prepare for the predicted influx of new patients
Midwest City, OK (PRWEB) April 22, 2013
Midwest City physical therapy clinic, Regional Physical Therapy(RPT), is readying for the upcoming changes predicted to accompany the Affordable Care Act by expanding their facility. Regional PT is opening new clinic, Regional Physical Therapy South, to better reach the expected larger amount of patients following implementation of the ACA, which will change the way healthcare is paid for. The grand opening of Regional PT South will take place on May 10, 2013 in the heart of south Oklahoma at 11704 S. Western Avenue. Keynote speaker and Oklahoma State Representative Gary Banz will be discussing the upcoming changes in the health care bill. In attendance will also be prominent business owners, community leaders from local churches, and students and staff from the University of Oklahoma Health Sciences Center.
Millions of uninsured Americans will be directly affected by the Supreme Court's ruling to uphold the section of the ACA that requires most Americans to have health insurance. The healthcare industry—including physical therapy—is most likely to see more of the public using services that they might otherwise not have been able to afford.
RPT owner/CEO Vicki Buchanan understands that the new healthcare laws will permanently alter the way medicine is handled, and says that Regional PT's expansion is part of adapting to these inevitable changes.
"We're planning to serve more people [with the Affordable Care Act], and we thought it was necessary to prepare for the predicted influx of new patients," commented Buchanan. "By preparing for the changes now, the transition will be much smoother in 2014."
In readiness for the changes, Buchanan has hired four new associates in order to meet the potential demand. Thaja Giles, who has been with Regional PT for the past two years, was recently designated as onsite manager/owner of RPT South. Giles has 14 years of experience, and looks forward to her new responsibilities.
Regional PT has been steadily growing, and Buchanan believes this is due to patients' habits changing—many, she says, are seeking medical modalities that get results. Regional PT recently celebrated a new phase in their expansion—highest-ever patient visits.
"Our goal at Regional [PT] has always been to provide patients with the highest level of care by licensed physical therapists," continues Buchanan. "We've seen much growth recently and with Regional [PT] South, we can continue to reach even more people to help improve their quality of life."
Regional PT South personnel will offer restorative treatment for many conditions, such as:
● Arthritis
● Back pain
● Sports injuries
● Headaches
● Dizziness/vertigo
● Disc bulges
● Joint restrictions
● Lower back pain
● Neck pain
Along with post-op rehabilitation, Regional PT South services also include on-site physical therapy, as well as massage services.
Regional PT therapists have over 50 years of combined experience, and offer individualized treatment plans that bring results.
For more information, visit http://www.regionalpt.com.
About Regional Physical Therapy, Inc.
Based in Midwest City, Oklahoma, Regional Physical Therapy, with over 50 years of combined experience, treats patients with tailored, comprehensive treatment plans which are designed to fit individual needs. Regional Physical Therapy was founded in 1993 by owner Vicki Buchanan, who attended the University of Oklahoma Health Sciences Center and graduated with a degree in Physical Therapy. Dedicated to late co-founder Bruce Hawkins, the Bruce Hawkins Scholarship award was established by Regional Physical Therapy, Inc., in 2009 to give back to the profession that Bruce was dedicated to advancing. The Bruce Hawkins Scholarship has been awarded to Oklahoma University students who show outstanding leadership characteristics and embody the spirit of dedication to the profession of physical therapy. Regional Physical Therapy uses the team approach to help patients regain lost function, with the purpose of providing high-quality physical therapy services to the community. For more information, visit http://www.regionalpt.com.