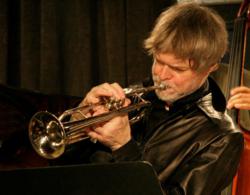 One of the top trumpeters in jazz for the past two decades and one of the music's most prolific and gifted composers
Fort Lauderdale, FL (PRWEB) April 19, 2013
South Florida's premier modern jazz organization is very excited to present the TOM HARRELL QUINTET on Saturday, May 11, 2013, at 8:00 PM. This concert will take place at the Rose and Alfred Miniaci Performing Arts Center on the Nova Southeastern University campus, 3100 Ray Ferrero, Jr Blvd, Davie 33314. Tickets are $40 ($15 for students) and can be purchased from the Broward Center box office by calling 954.462.0222 option #4; or online at http://southfloridajazz.org.
TOM HARRELL QUINTET
"One of the top trumpeters in jazz for the past two decades and one of the music's most prolific and gifted composers." - New York Times
A supreme trumpeter and flugelhornist, Tom Harrell creates a seemingly endless flow of bubbling, intricate ideas conveyed with an almost serene delivery. Neither aggressively avant-garde, nor riveted in the past, Tom Harrell's music simply celebrates sonic beauty for its own sake. Praised for his pure melodic genius, he is widely recognized as one of the most creative and uncompromising jazz instrumentalists and composers of our time.
The journey began in Urbana, Illinois, where Tom Harrell was born on June 16, 1946. He was raised in Los Altos, California, near Stanford University, where his father taught. Tom took up trumpet when he was eight and began improvising almost immediately, inspired by the Louis Armstrong and Benny Goodman records in his parents' collection. Trumpeter Clifford Brown also was a major influence on the young musician. Harrell was gigging around the San Francisco peninsula, on both trumpet and piano, by the time he was 13, and as a teenager, he had the perspicacity to study with renowned alto saxophonists John Handy and Lee Konitz, among others. After graduating from Stanford with a degree in music composition, he joined the Stan Kenton orchestra and then played in Woody Herman's trumpet section in after that. He spent the next year in the Latin-jazz fusion band, Azteca, prior to a four-year stint with the Horace Silver Quintet.
The Silver gig persuaded Harrell to move to New York, where he was soon making records with Konitz, Bill Evans, Phil Woods and other jazz greats. He spent much of the 1980s touring with the Phil Woods Quintet, who pronounced Tom "the best musician I've encountered in 40 years of music." Tom has been leading his own groups since 1989.
Now in its seventh year of touring and a five-album output together, the quintet is reminiscent of the Horace Silver and Art Blakey bands because of its infectious accessibility, but even tighter. The sound is very much infused with Tom Harrell's own modern lyricism with unparalleled harmonic and rhythmic sophistication. The very latest CD is called Number Five (HighNote), but it looks like number six is not far behind.
ARTISTIC PERSONNEL
Tom Harrell – trumpet and flugelhorn
Wayne Escoffery – tenor saxophone
Danny Grissett – piano and Fender Rhodes
Ugonna Okegwo – double bass
Johnathan Blake – drums
The Rose & Alfred Miniaci Performing Arts Center is a part of the Alvin Sherman Library, Research, and Information Technology Center on the Nova Southeastern University campus. This acoustically exceptional 498-seat auditorium is equipped with state-of-the-art lighting and sound technology. The Miniaci enhances both the academic experience at NSU, as well as the cultural life of the community at large, through its academic seminars and arts programming.
For ticket information, please visit http://www.southfloridajazz.org or call 954 462-0222, option #4 in Broward or toll-free: 800-564-9539.
Funding for this organization is provided in part by the Broward County Board of County Commissioners as recommended by the Broward Cultural Council.