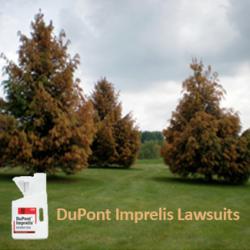 For a free Imprelis claims consultation concerning the class action settlement, your rights, how to opt out , or other questions contact Wright & Schulte 1-800-399-0795 or visit www.yourlegalhelp.com
Columbus, OH (PRWEB) April 24, 2013
The attorneys at Wright & Schulte, LLC have filed multiple Imprelis lawsuits on behalf of 17 property owners in Ohio, New Jersey, Indiana, North Carolina and Michigan. These cases (case no. N13C-03-242 JRJ) were filed on March 21, 2013, names E.I. DuPont De Nemours and Co. as the defendant and will be litigated in the Superior Court of Delaware, New Castle County. According to court documents, these cases allege that use of Imprelis herbicide resulted in the plaintiffs' trees, shrubs and other plant life being irreversibly damaged. This allege Imprelis tree damage lawsuit also contends that DuPont mislead consumers in Imprelis advertising and that, even after consumers reported alleged Imprelis tree damage, DuPont failed to acknowledge the dangers associated with its herbicide.
Wright & Schulte, LLC is dedicated to defending the rights of those who have suffered damages and losses after the use of dangerous products. Our experienced Imprelis Lawsuit attorneys have a proven track record of successfully going up against large corporations. Wright & Schulte, LLC welcomes individuals who may have lost trees, shrubs and other plant life due to the application of Imprelis to speak with our Imprelis lawyers about filing an Imprelis lawsuit by visiting yourlegalhelp.com or by calling 1-800-399-0795.
The Imprelis lawsuit complaints explains that the various property owners contracted with different lawn care companies in their respective states throughout the spring of 2011. Despite the fact that all of the lawn care companies had reportedly applied Imprelis in accordance with DuPont's instructions and directions, the plaintiffs in this case all suffered significant, irreversible damage to their trees, lawns and gardens, and in some cases, it only took one application of Imprelis to allegedly cause such devastation. Specific signs of alleged Imprelis tree damage and death that the plaintiffs' plant life exhibited included browning, curling, twisting, stunted leaf growth and stem die-back.
Alleged Imprelis Tree Damage
According to court documents, DuPont initially marketed Imprelis as having significant advantages over other herbicides on the market and claimed that Imprelis was the "most advanced turf herbicide in over 40 years." Despite such claims, however, landscape professionals have described Imprelis, which is four times more powerful than Agent Orange, as the industry's "Hurricane Katrina." Many industry professionals also contend that the full extent of the alleged damage DuPont's Imprelis has caused is only just beginning to be evident. The complaint goes on to point out that, even after consumers began to report Imprelis tree damage to DuPont, the company denied that Imprelis herbicide was dangerous and tried to attribute the tree death to other factors, such as improper application of the herbicide.
[businessweek.com/news/2011-07-15/dupont-sued-by-michigan-polo-club-over-imprelis-herbicide.html]
[.epa.gov/pesticides/regulating/imprelis.html]
EPA Orders DuPont to Stop Selling Imprelis
As mentioned in the Imprelis lawsuit, nationwide consumer reports of Imprelis tree damage began accumulating after the herbicide's introduction in October 2010, by June 2011, the EPA initiated its own investigation into the alleged problems with Imprelis. Within a few months, the EPA had uncovered sufficient evidence that Imprelis was responsible for seriously damaging or killing thousands of trees and, as a result, ordered DuPont to immediately stop selling and distributing Imprelis herbicide. At that time, the EPA has received more than 7,000 reports of Imprelis tree damage from consumers nationwide.
[ http://www.epa.gov/compliance/resources/cases/civil/fifra/dupontimprelis.html
About Wright & Schulte LLC
Wright & Schulte LLC, an experienced product liability firm, is dedicated to the belief that America's legal system should work for the people. Every day, the attorneys of Wright & Schulte LLC stand up for the rights of people who have been injured or wronged by unsafe consumer products. We will fight tirelessly to ensure that even the world's most powerful corporations take responsibility for their actions. If you're looking for a law firm that will guarantee the aggressive and personal representation you deserve, please do not hesitate to contact Wright & Schulte LLC today. Free Imprelis lawsuit case evaluations are available through http://www.yourlegalhelp.com or by calling 1-800-399-0795.
Contact:
Wright & Schulte LLC
812 East National Road
Vandalia, Ohio 45377
1-800-399-0795
http://www.yourlegalhelp.com