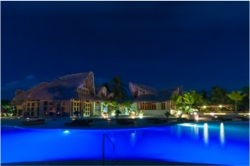 "This summer season, groups would have the opportunity to enjoy of the best we can offer while receiving immediate savings. This is an opportunity not to be missed."
Punta Cana, Dominican Republic (PRWEB) April 22, 2013
Just in time for the summer vacation season, Eden Roc at Cap Cana, the premier property by Solaya Hotels & Resorts, is offering its luxurious resort experience at a highly affordable group rate. For the next few months, travel groups can take advantage of this special offer to enjoy all the relaxing amenities and services of this elite enclave reminiscent of the French and Italian Rivieras.
As the epitome of luxury in the Dominican Republic, the Eden Roc at Cap Cana has 34 beautifully designed suites and extravagant amenities such as six superior dining venues managed by world-class Executive Chef Gianluca Re Fraschini, a full-service spa, Caletón Beach Club, Koko Kids Club, access to the Punta Espada golf course and much more.
Eden Roc at Cap Cana's meeting spaces are ideal for destination weddings, corporate functions and social gatherings. The resort offers a wide variety of meeting spaces to accommodate groups' different needs, ranging from the 753-square foot Corallina Conference Room, which features two break rooms directly accessible from the hotel's lobby, to the pool terrace, which boasts 5,380 square feet of meeting space surrounded by tropical gardens and showcasing a dramatic waterfall. In addition, Eden Roc at Cap Cana houses an expert staff of event planners and caterers offering unparalleled attention to detail and superior customer service.
Special rates of US$350 per room (plus taxes) for 10 rooms are now available for bookings through October 1, 2013. Travel must be completed by October 31, 2013, and there are no minimum stay requirements or blackout dates.
The luxury resort's special group rate for junior suite garden-view category rooms includes a golf cart, wireless Internet access, personalized concierge service, and access to Caletón Beach Club and Koko Kids Club. Rates are for new bookings only, and cannot be combined with any other offer. The resort also reserves the right to modify or close out any promotion.
"Since opening in 2012, Eden Roc at Cap Cana has received a tremendous response from international vacationers seeking the ultimate paradise experience at a sophisticated resort in the much-desired Punta Cana area," says Paolo Sanavia, CEO of Solaya Hotel & Resorts. "This summer season, groups would have the opportunity to enjoy of the best we can offer while receiving immediate savings. This is an opportunity not to be missed."
With private swimming pools and massage areas, the resort offers a uniquely relaxing vacation experience. In addition, each suite is equipped with Bose audio systems and iPads with innovative apps to control the lighting, sound system, air-conditioning, mini bar, and interact with the front desk staff.
To make a reservation, call 1-809-469-7469 or visit http://www.edenroccapcana.com.
About Eden Roc at Cap Cana
Redefining luxury in the Dominican Republic, Eden Roc at Cap Cana, the premier property by Solaya Hotels & Resorts, consists of 34 freestanding suites that offer its jet-setting guests an unprecedented level of intimate luxury that personifies glamour. Eden Roc at Cap Cana privileges to spoil further with extravagant amenities such as the resort's full service spa, golf course at Punta Espada, Caletón Beach Club, Koko Kids Club, six diverse culinary selections and more.
About Solaya Hotels & Resorts
Solaya Hotels & Resorts is a privately held company with its main interest in the development of ultra-luxurious boutique hotels. Eden Roc at Cap Cana will be the first luxury resort from the group and will set the vision and tone for the company's future growth within the hospitality industry. Solaya was born from the passion and quest for excellence of its founders, who have created a unique concept of intimate luxury.
# # #