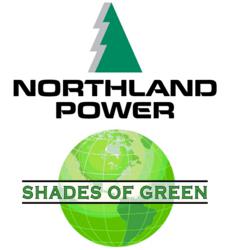 Toronto, Ontario (PRWEB) April 22, 2013
Northland Power announced today that they will be featured in an upcoming episode of Shades of Green.
Northland Power has experience and expertise across a number of technologies, including natural-gas-fired, biomass, hydro, wind and solar power. Northland's knowledge of these technologies enables them to pursue opportunities across a broad spectrum of clean and renewable projects.
In this segment, Shades of Green will explore Northland's plans to convert a long unused iron mine in Ontario into a 400 megawatt pumped storage hydro power facility. As jurisdictions around the world transition to renewable energy sources at previously unforeseen rates, energy storage has been identified as a fundamental counterpart to intermittent energy sources, such as wind and solar.
In addition, audiences will learn about Northland's natural gas turbine technology, which is used to produce large amounts of electricity in an efficient, reliable, and environmentally-responsible manner.
"Northland Power was founded over 25 years ago on the belief that clean and green energy is vital to the future of our planet. It's all we produce", said John Brace, President and CEO of Northland Power. "We understand how different technologies work together to form an effective and sustainable electricity system, and we are excited to share our perspective with the Shades of Green audience."
"Northland power is working today to make a difference for tomorrow," said Robert Sikich, producer for the series. "I'm looking forward to educating audiences on all the different ways this company is creating a more efficient and sustainable future."
ABOUT NORTHLAND
Northland Power is an independent power producer founded in 1987, and publicly traded since 1997. Northland produces 'clean' (natural gas) and 'green' (wind, solar, and hydro) energy, providing sustainable long-term value to shareholders, stakeholders, and host communities. The company owns or has a net economic interest in 1,005 MW of operating generating capacity, with an additional 380 MW of generating capacity currently in construction, and another 220 MW of wind, solar and run-of-river hydro projects with awarded power contracts. Northland's cash flows are diversified over five geographically separate regions and regulatory jurisdictions in Canada, Germany and the United States.
Northland's common shares, Series 1 and Series 3 preferred shares and convertible debentures trade on the Toronto Stock Exchange under the symbols NPI, NPI.PR.A, NPI.PR.C and NPI.DB.A, respectively.
For more information, visit: http://www.northlandpower.ca or call 647-288-1105.
About Shades of Green:
Shades of Green is an award winning eco-friendly series strictly devoted to advancements in renewable energy and sustainable living. From biodiesel to wind power, Shades of Green gets up close and personal with the people and organizations dedicated to reducing our dependence on foreign oil and creating a sustainable planet.
For more information visit: http://www.dmgproductions.org or call (866) 496-4065.
About DMG Productions:
The DMG production team consists of producers, cameramen and editors that have worked for CNN, TLC, Discovery, and other major news and cable networks. Our staff includes personnel specialized in various fields from agriculture to medicine, independent films to regional news. Our field producers utilize the core concepts from our producers who storyboard our programs, and work closely with experts in the field to develop the educational programs. This powerful force enables us to consistently produce commercial-free, educational programming that both viewers and networks depend on.
Media Contact:
Robert Sikich, Producer
Shades of Green / DMG Productions
(866) 496-4065 x 805 / robert(at)dmgproductions(dot)org