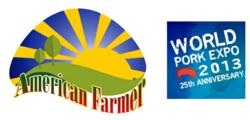 Jupiter, FL (PRWEB) April 23, 2013
In preparation for the World Pork Expo, taking place June 5-7 of 2013, American Farmer is currently gathering content on innovations in pork production, which will air later this year on RFD-TV.
American Farmer proudly announces their efforts to gather content surrounding the new and exciting innovations taking place in the livestock industry.
This year, the world's largest pork-specific trade show will bring some 20,000 pork producers and industry professions alike to the World Pork Expo, which will be held at the Iowa State Fairground in Des Moines, Iowa. Presented by the National Pork Producers Council, this three-day affair will be completely dedicated to industry innovations.
American Farmer plans to be on the scene scoping out new technologies and trends hitting the industry. With over 500 trade show exhibits, American Farmer is sure to uncover some great new developments in the making.
"We get really excited for the World Pork Expo each year, as it always turns out to be a good time, and to provide truly entertaining and educational content for the show." said Charles Cowan, producer for American Farmer. "This year's sure to be the best yet!"
Look for American Farmer producers at this year's World Pork Expo as we come out to support those helping to ensure animal well-being, agricultural business, environment management, production efficiencies, and much more.
About American Farmer:
American Farmer is a breakthrough program on a mission to showcase the latest advancements in agriculture and farming. From seed to harvest, livestock and more, our producers have traveled the country covering the people, places and issues impacting all areas of farm country.
American Farmer airs Tuesdays at 8:30am EST on RFD-TV as well as Saturdays at 1:30pm and Midnight EST on RURAL-TV.
For more information visit: http://www.americanfarmertv.com or call (866) 496-4065.
Media Contact:
Charlie Cowan, Producer
(866) 496-4065 x 875
charlie(at)americanfarmertv(dot)com