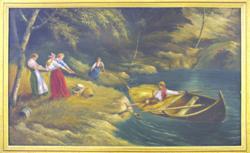 These are rare original paintings by well listed artists and we're sure our audience will appreciate them
Eastern Shore, USA (PRWEB) April 23, 2013
Estate Auctions Inc. is pleased to announce the auction of four original oil paintings. This rare offering includes works by renowned Hungarian artists Bela Kadar and Karoly Patko and Norwegian artist Hans Dahl.
Bela Kadar (1877-1956) has had over 1,400 paintings come up at major auction houses around the world and his top nudes have brought over $120,000. Fellow Hungarian Karoly Patko (1895-1941) has had over 110 paintings come up at major auction houses with his top painting bringing over $180,000. Both of these were obtained from the estate of an American diplomat, who brought them back from his service overseas. These pieces have had limited exposure in the market which makes the opportunity even more unique.
Hans Dahl (1849 - 1937) was a Norwegian painter. Hans Dahl was famous for his paintings of Norwegian fjords and surrounding landscapes. His paintings have been sold in major auction houses topping out at $94,000.
"Our growing customer base expects top quality artwork and we continue to meet their demands. These are rare original paintings by well listed European artists and we're sure our audience will appreciate them. For art of this quality to be offered at a starting bid off 99 cents is almost unheard of, but our clients are not complaining and our consignors stay happy too," says Norb Novocin, owner of Estate Auctions, Inc.
The Estate Auction team specializes in handling consignments rare and valuable antiques and collectibles. They continue to satisfy a loyal customer base and have even published a book about these experiences. Getting Sold On Ebay, The Treasure Hunter's Guide To Making Money, which has received stellar reviews and is receiving national attention.
You can view the paintings on Estate Auctions Inc. eBay site.
Also Coming Soon: From the collection of pan-Asian Buddhist art of the Ryder family, Indiana, acquired in the 1980's and 1990's. The Ryder family worked with major auction houses around the country in amassing this collection and until recently, many parts of the collection were on loan to local Midwest museums. The mandate of the collection was to research and source a representative sculptural work from every country and every major period of Buddhist art. eBay Auctions start on the Ryder Buddha collection last week in April.
To learn more about the Novocins and Estate Auctions, Inc. visit them on eBay, user ID EstateAuctionsInc or follow them on Twitter @KnowsEbay. Do you have a valuable antique you would like to sell on eBay? Call for consigning information at 1-800-573-3508. You can find their new book Getting Sold On Ebay, The Treasure Hunter's Guide To Making Money on eBay or Amazon.com.
Join Estate Auctions Inc on Facebook too.