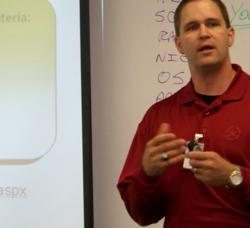 Every client is our most important client, so we are making sure we have the facilities we need.
Murrieta, CA (PRWEB) April 19, 2013
The entrepreneurial spirit is alive and well as indicated by the demand for services and support from The Sales Whisperer® team.
The combination of releasing the second edition of his book, The Definitive Guide to Infusionsoft, being named Infusionsoft Consultant of the Year and announcing the availability of Private Client Services, Wes Schaeffer, The Sales Whisperer®, says he simply needs additional office space to ensure his team provides quality support to their ever-growing list of clients.
"Because my team and I work with many of our clients through the internet," Schaeffer said, "we've been able to stay lean and mean. Offering Private Client Services and the Infusionsoft Study Hall has changed that with more in-person work."
Schaeffer has had clients travel from as far away as the United Kingdom to spend private time with him and his team to grow their sales with improved marketing and sales processes. This new office space will enable The Sales Whisperer® to offer expanded training, consultations and support to clients across Southern California, the U.S. and the world.
About The Sales Whisperer®
Wes Schaeffer is The Sales Whisperer®, a sales and marketing industry leader who works with and specializes on the Infusionsoft sales and marketing platform. He and his Certified Infusionsoft Consultants at The Sales Whisperer® educate and train clients on sales and marketing practices, social media marketing, SEO and SEM usages, motivational speaking, and more.
The Sales Whisperer® team offers sales and marketing training and support, copywriting and distribution expertise, and training on how to put it all together to grow affordably and predictably with less stress and shorter sales cycles. Visit http://www.thesaleswhisperer.com to learn more about the company, and discover how it can help your business grow.