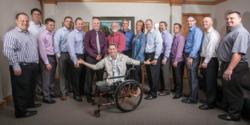 I don't see this as a tragedy, it's just another life experience. It's opened my eyes.
Salt Lake City, Utah (PRWEB) April 20, 2013
iFreedom Direct®, a leader in VA mortgage lending with a strong record of supporting veteran foundations and sending care packages to troops in Afghanistan, hosted a private speaking engagement and book signing at La Caille on April 10, 2013. The event was open to company employees and their families and featured Purple Heart Recipient Bryan Anderson. The 9/11 Iraqi War Veteran lost both legs and his left hand when his Humvee detonated an Improvised Explosive Device (IED).
Anderson delivered a poignant and, at times, humorous account of his experience overcoming his life-altering war injury. The Emmy-award winning speaker, for his TV special "Reporting for Service with Bryan Anderson," told one story after another while maintaining his unique perspective that life's struggles and tragedies are really just opportunities in disguise.
iFreedom Direct® Veterans' Advocate, Tim Lewis, said this in an email to employees the morning after the event, "Last night Bryan's story brought home the message of what is truly possible when our thoughts are focused on what can be done instead of what can't. He lives that message every day and he's an amazing example of what we can do with our lives if we just give it our all."
Anderson enlisted in the U.S. Army in 2001 and shipped out for basic training on September 11, 2001. The Chicago native served two tours of duty in Iraq, earning the rank of Sergeant in the Military Police (MP). During a mission in Baghdad on October 23, 2005, Anderson's Humvee detonated an Improvised Explosive Device (IED). The blast instantly severed his left hand and both legs.
The severely injured soldier spent 13 months in rehabilitation at Walter Reed Army Hospital before returning home to his close-knit family in Illinois. With the use of prosthetics and a wheelchair, he regained his mobility and now leads a very active life. The self-proclaimed "adrenaline junkie" enjoys a variety of outdoor activities, including wakeboarding, snowboarding and rock climbing.
Aside from pursuing a budding acting career, with parts in "CSI: NY" and "The Wrestler," the 32-year-old U.S. Army Veteran is a published author. His memoir, "No Turning Back," was released on November 11, 2011 and frankly shares his life-altering experience. In addition, Anderson travels extensively as spokesperson for both USA Cares and Quantum Rehab, a division of Pride Mobility Corp.
As a surviving triple amputee from the Iraq conflicts, Bryan Anderson's inspiring story puts a new perspective on overcoming personal challenges. The motivational speech was also being broadcast live via Twitter, portions of which can be read on iFreedom Direct's website.