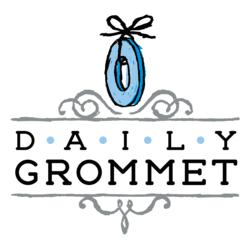 Daily Grommet believes in this problem solving product and is happy to support featuring the company.
Lexington, MA (PRWEB) April 20, 2013
Daily Grommet, an online shopping site and product launch platform for innovative and undiscovered products, is working with California cosmetics company to feature Ambiance, volumizing dry shampoo. Daily Grommet believes in this problem solving product and is happy to support featuring the company.
Dermatologists and stylists agree that most don't need to wash hair every day. In fact, shampoo-skippers have found that going an extra day or two between shampoos can result in shinier, less frizzy hair. But despite the expert recommendations and potential rewards, it can be hard to get past the feeling that hair might look oily or unclean if one doesn't lather up. To eliminate that feeling, Chelsey Sanderson at Ambiance (which produces dry shampoo for the leading brands) led the charge to create a tinted, all-natural dry shampoo for consumers.
It lifts hair at the roots to add body and helps keeps the hair manageable between shampoos. Ambiance also doubles as a concealer to minimize the appearance of gray roots and thinning hair. It comes in different shades to blend with hair color (and avoid the cloudy tinge that white powdery options can leave). Plus, it's all-natural and contains no alcohol, so it won't damage hair even with frequent use.
About Daily Grommet
Daily Grommet is a highly curated online marketplace and launch platform for products of great utility, style or invention that haven't hit the big-time yet. Daily Grommet seeks out these unique products, carefully tests them, and produces a video review of each one telling the story behind its creation. Daily Grommet is rooted in the philosophy of Citizen Commerce whereby regular people form the commerce experience by suggesting products that reflect their values and interests. Citizen Commerce turns the typical top down retailer approach sideways, encourages global product innovation from small producers, and satisfies the consumer's need to know the stories behind and origins of favorite products. The company was also just named one of the hottest sites of 2013 by Internet Retailer. For more information, visit http://www.DailyGrommet.com.