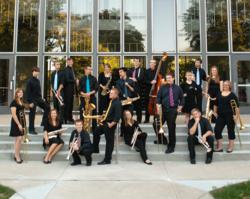 Seward, NE (PRWEB) April 24, 2013
Concordia University, Nebraska's Male Chorus, Women's Chorale, University Concert Band, Chamber Orchestra, Jazz Ensemble, Vocal Jazz Choir and two handbell choirs will give concerts during the last week of April and first week of May. All performances are free and open to the public.
The Male Chorus and Women's Chorale will give a joint concert on Sunday, April 28, at 4 p.m. The performance will be at St. Gregory the Great Seminary in Seward, Neb., located at 800 Fletcher Road. The Male Chorus, directed by Professor of Music Dr. Kurt von Kampen, is a four-part ensemble that sings both sacred and secular music. During several songs in the program, the Chorus will sing with the Women's Chorale, a four-part choir of female voices, directed by Professor of Music Jeffrey Blersch.
The University Concert Band will perform on Monday, April 29, at 7 p.m. at St. John Lutheran Church in Seward. The Concert Band is a community outreach ensemble, made up of university and high school students as well as Concordia staff and other community members. The band rehearses once a week and gives several performances throughout the year.
Concordia's Chamber Orchestra will give a concert on Wednesday, May 1, at 7 p.m. in the Music Center's recital hall. The performance will feature selections dating from 1745 to 1917, representing Baroque, Classical, Romantic and 20th Century styles of music. The orchestra's concert will also feature a faculty soloist, Michael Keelan. Keelan, a strings instructor at Concordia since 2011, earned his Master of Music degree from the University of Maryland-College Park. He has conducted and performed with the Lincoln Symphony Orchestra and currently coaches the violin sections of Omaha's senior youth orchestra. Keelan will perform "Romance, Op. 26" by Johan Svendsen on the violin.
"He is a very accomplished violinist and string teacher," said Dr. Christopher Nichols, director of the Chamber Orchestra. "We are so fortunate to have him on faculty at Concordia."
The annual Spring JazzFest will be Friday, May 3, beginning at 7 p.m. Concordia's Jazz Ensemble and Vocal Jazz Choir will perform at the Hillcrest E-Free Church, located at 2433 Progressive Road in Seward. Formed nearly 30 years ago, the Jazz Ensemble's repertoire includes early jazz, swing, blues, fusion, funk and Latin styles of music. The band is conducted by Andrew Schultz, assistant professor of music. The Vocal Jazz Choir, conducted by Dr. Kurt von Kampen, professor of music, is made up of the members of Concordia's University Chamber Choir.
Concordia's Handbell Choir and Handbell Choir II will perform a joint concert on Sunday, May 5, at 3 p.m. in the Music Center's recital hall. Under the direction of conductor Jessica Kite, each 14-member choir will perform arrangements featuring five octaves of hand bells, three octaves of chimes, and additional percussion.
Concordia University, Nebraska, founded in 1894, is a fully accredited, coeducational university located in Seward, Neb. that currently serves over 2,200 students. Concordia offers more than 50 professional and liberal arts programs in an excellent academic and Christ-centered community that equips men and women for lives of learning, service and leadership in the church and world. For more information, visit cune.edu.