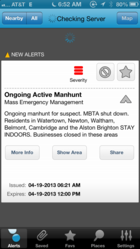 NASHUA, NH USA (PRWEB) April 19, 2013
The Massachusetts Emergency Management Agency is using Ping4 Alerts to inform residents of lockdown in Boston Suburbs as State Police search for the second Boston bombing suspect.
The Ping4 Alerts are being sent to smartphones within the lockdown zone who have registered with the Massachusetts Emergency Management Agency (MEMA). MEMA has contracted with Ping4 Alerts to provide alerts on emergency situations to residents throughout the state. Ping4 Alerts' technology allows MEMA to target users in select geographic locations after they have downloaded a free app.
Ping4 Inc. is an innovative software communications company developing advanced mobile alerts for smartphones. Using the latest in push notification technology, the Ping4alerts! app enables emergency management officials to deliver real-time, location-based, multimedia alerts to any smartphone, anywhere. Using patent-pending technology, ping4alerts! helps public officials notify any smartphone user with the app within a customized geographic area of crucial, time-sensitive information with text, pictures, audio, links and maps, including extreme weather events and fast-moving, dangerous situations. For more information, go to http://www.ping4.com.
#30#
Media Inquiries: Peter Barhydt
w 203-618-1709 c 203-252-4768
Peter.Barhydt(at)AberdeenAssociates.com