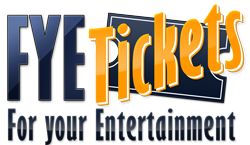 As the demand increases the price will too but FYETickets.com remains steadfast in offering the lowest prices possible on all event tickets
Denver, CO (PRWEB) April 21, 2013
Each year as the NBA Playoffs begin, ticket sales explode through the roof as fans scramble to buy tickets before they are sold out. This year the season begins April 21, 2013, with the Eastern Conference and Western Conference teams squaring off to determine who will compete in the Finals. With ticket sales exploding, NBA fans will see prices increase as game time approaches making it impossible for some to attend the coveted games.
"It's supply and demand," said FYETickets.com CEO. "We all know how it works. As the demand increases the price will too but FYETickets.com remains committed to offering the lowest prices possible on all event tickets."
FYETickets.com, an online discount ticket marketplace, will be selling discount NBA Playoff tickets to all games for the 2013 season. Fans can continue to expect the low prices that FYETickets offers as well as an openly available discount code to save an additional percentage off the customer's total.
FYETickets boasts an impressive 125% money-back guarantee that all tickets will arrive on time for the event and are authentic. Fans can place their online order with FYETickets.com for cheap NBA Playoff tickets and rest easy in their purchase.